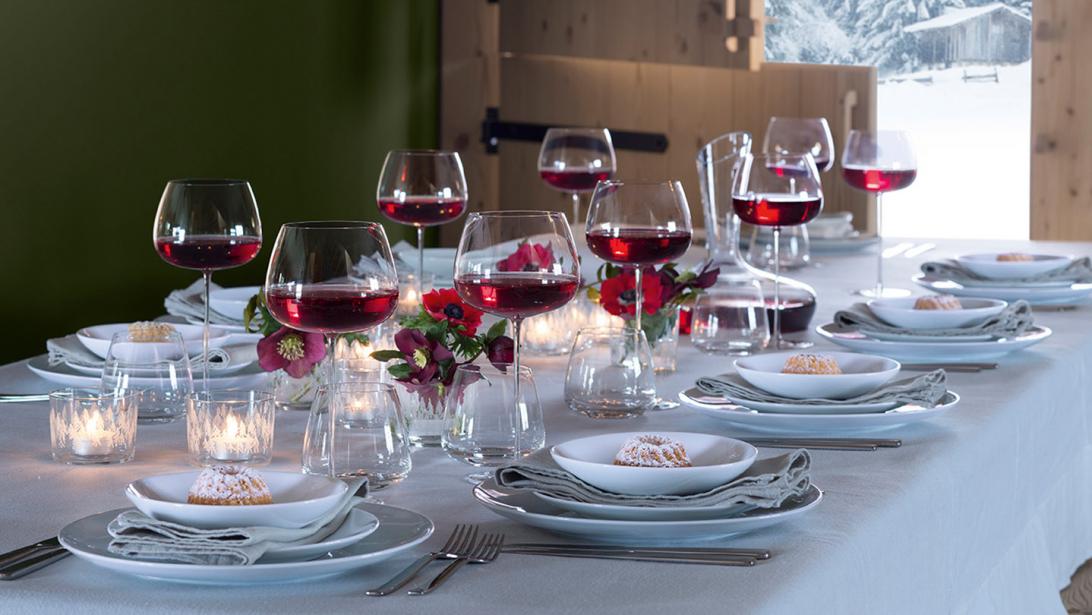 Luke 14:15-24
When one of the other people at the table heard that, he said to Jesus, "How wonderful to be able to sit at the table in the Kingdom of God!"
But Jesus said to him, "Someone was going to have a big feast. He invited many people. When everything was ready, he sent a servant to the guests to say," Come, because the meal is ready. "But none of the guests wanted to come.
The first man the servant came to said, "I bought a field. I have to go see it now. Tell your lord I'm sorry, but I can't come."
The next said, "I bought ten oxen. I'm going to see if they're good animals. Tell your lord I'm sorry, but I can't come."
Another said, "I just got married. I really can't come."
The servant went back and told his master. He became enraged and said to his servant, "Go immediately to the streets and alleys of the city. Get the beggars, the paralyzed and the blind, and bring them here." When the servant returned, he said, "Lord, I have done what you have commanded me. But there is still room at the table." The gentleman said to him, "Then go to the roads and paths outside the city. Tell the people there that they must come to my party. Because my house must be full. Because I tell you: the guests who were first invited will not get any of my meal."
It is similar today. I sometimes feel like one of those servants.
The invitation has already been given, but people did not give any attention to it.
Now they are told to come, because everything is ready. The door is still open. But now people in every way show unwillingness and resistance to accept Jesus as the Messiah and find all kinds of excuses to not enter His Kingdom.
Not thinking of the consequences. Not entering, means staying outside, means not being a partaker of His glory
Again we receive an important lesson from Jesus.
One of the participants in the Pharisee's meal is deeply impressed by what Jesus just said about sharing in the glory of the Messianic Kingdom soon (Luke 14:14).
Luke 14:15 KJV
And when one of them that sat at meat with him heard these things, (When one of those who came along heard these things),
he said unto him, blessed is he that shall eat bread in the kingdom of God.
But enthusiasm or feelings or emotions are not enough.
Surrendering to Christ is necessary! (Compare Luke 9:57-62)
In the form of a parable, Jesus indicates who will participate in the festive meal with God later, and who will exclude themselves. Guests were invited twice for a banquet. After an invitation some time before, a reminder followed shortly before the meal began.
The servant this time only had to say that everything was ready. The refusal of the invitees here, is therefore put in an even more shrill light. They have seemingly compelling reasons for refraining.
Luke 14:18‭-‬20 KJV
And they all with one consent began to make excuse.
▪︎ The first said unto him, I have bought a piece of ground, and I must needs go and see it: I pray thee have me excused.
▪︎ And another said, I have bought five yoke of oxen, and I go to prove them: I pray thee have me excused.
▪︎ And another said, I have married a wife, and therefore I cannot come.
But if we read the apologies, we get our doubts.
It is very strange that one buys a field or oxen without having seen it.
Will someone buy land, or cattle, without knowing what he actually buys?
And according to the law of Moses, a newlywed was only exempt from participating in the battle.
Deuteronomy 20:7 KJV
And what man is there that hath betrothed a wife,
and hath not taken her?
Let him go and return unto his house,
lest he die in the battle,
and another man take her.
Deuteronomy 24:5 KJV
When a man hath taken a new wife,
he shall not go out to war,
neither shall he be charged with any business:
but he shall be free at home one year,
and shall cheer up his wife which he hath taken.
The special thing about this parable is that the people mentioned in Luke 14:13 are now invited.
Luke 14:13 NASB
But when you give a reception,
invite the poor, the crippled, the lame, [and] the blind,
Just they, now receive the invitation. Just they who are unworthy.
Luke 14:21‭-‬23 KJV
So that servant came, and shewed his Lord these things.
Then the master of the house being angry
(because of the rejections of his invitation)
said to his servant,
Go out quickly into the streets and lanes of the city,
and bring in hither the poor, and the maimed, and the halt,
(the disabled and the lame), and the blind.
And the servant said, Lord, it is done as thou hast commanded,
and yet there is room.
And the Lord said unto the servant,
Go out into the highways and hedges,
and compel them to come in,
that my house may be filled.
In the opinion of the Jewish spiritual elite, the people now invited, were not counted.
They were among the crowd that did not know the law.
John 7:49 KJV
But this people
who knoweth not the law
are cursed.
It is only because God's own people rejected the invitation, that we were invited.
We who were not His own, can now be adopted into His household.
And after you accepted His invitation you can say with me:
We who were once not His own, are now belonging to Him.
1 Petrus 2:10 AMP
Once you were not a people [at all],
but now you are God's people ;
once you had not received mercy,
but now you have received mercy .
But this does not mean that God has now rejected His people (The 12 tribes). If they are not excluding themselves, they too, have the chance to enter.
Psalms 94:14 AMP
For the Lord will not abandon His people,
Nor will He abandon His inheritance.
It is very clear that Jesus urges his table companions, with all love and yet deep seriousness, to abandon their pride and resistance and make the right decision: to accept Him as the Messiah. And the same counts for us today!
Whoever refuses the invitation puts himself out of salvation.
We only share in God's salvation when we acknowledge our sinfulness and inner poverty and find everything we need in Jesus
1 Corinthians 1:28‭-‬31 KJV
And base things of the world,
and things which are despised, hath God chosen,
yea, and things which are not (nothing),
to bring to nought things that are:
That no flesh should glory (boast) in his presence.
But [out]of Him are ye in Christ Jesus,
who of God is made unto us wisdom [from God]
and righteousness [justice], and sanctification, and redemption:
That, according as it is written,
He that glorieth (praises), let him glory (boast) in the Lord.
Prayer suggestion:
▪︎ Thank God for His grace in Jesus Christ.
~~~~~
PS. Make it your habit to check out my website, as without any good reason my pages or account on Facebook may be gone again.
Bookmark the devotionals or add it to your homescreen. https://devotionals.harryschoemaker.nl
Internet: http://harryschoemaker.nl
~
ENGLISH
Facebook: https://www.facebook.com/worldwide.ekklesia/
Twitter: @SchoemakerHarry
Website: https://devotionals.harryschoemaker.nl
~
NEDERLANDS
(Ligt, doordat het niet meer gelezen werd, momenteel even stil)
Facebook: https//www.facebook.com/wereldwijde.ekklesia/
Twitter: Twitter: @SchoemakerHarry
Website: https://overdenkingen.harryschoemaker.nl