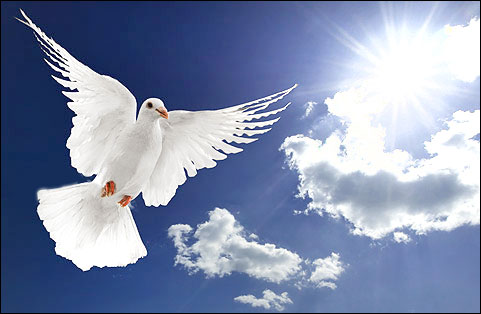 Question:
What is meant by Jesus is the Baptist with the Holy Spirit?
Answer:
We read in the Bible in Mark 1:8 that John the Baptist said
"I baptized you with water; but He will baptize you with the Holy Spirit."
And Jesus himself repeats these words in Acts 1:5
"John baptized with water, but you will be baptized with the Holy Spirit not many days from now."
These words became reality on the day of Pentecost.
The disciples were then filled with the Holy Spirit.
But some people will ask: "But is it not true that this outpouring of the Holy Spirit took place once and for all on Pentecost?"
No, even afterwards the Holy Spirit was poured out again and again, for example in Samaria,
Acts 8:14-17
"Now when the apostles in Jerusalem heard that Samaria had received the word of God, they sent them Peter and John," who came down and prayed for them that they might receive the Holy Spirit. ¹⁶For He had not yet fallen upon any of them; they simply had been baptized in the name of the Lord Jesus. Then they laid their hands on them, and they were receiving the Holy Spirit.
in the house of Cornelius,
Acts 10:44-46
⁴⁴While Peter was still speaking these words, the Holy Spirit fell upon all those who were listening to the message. All the circumcised believers who came with Peter were amazed, because the gift of the Holy Spirit had been poured out on the Gentiles too. ⁴⁶For they were hearing them speaking with tongues and exalting God. Then Peter answered,
on the believers in Ephesus
Acts 19:1-8
¹It happened that while Apollos was at Corinth, Paul passed through the upper country and came to Ephesus, and found some disciples. ²He said to them, "Did you receive the Holy Spirit when you believed?" And they said to him, "No, we have not even heard whether there is a Holy Spirit."
³And he said, "Into what then were you baptized?" And they said, "Into John's baptism." ⁴Paul said, "John baptized with the baptism of repentance, telling the people to believe in Him who was coming after him, that is, in Jesus." ⁵When they heard this, they were baptized in the name of the Lord Jesus.
⁶And when Paul had laid his hands upon them, the Holy Spirit came on them, and they began speaking with tongues and prophesying. ⁷There were in all about twelve men. ⁸And he entered the synagogue and continued speaking out boldly for three months, reasoning and persuading them about the kingdom of God.
And so through all ages there have been people who were baptized with the Holy Spirit. In our time, even a much larger number than before.
Every born-again follower of the Christ has had an experience of the Holy Spirit because:
Romans 8:16
The Spirit Himself testifies with our spirit that we are children of God,
Through the testimony of God's spirit, we know that we the children of God. But the work of the Spirit goes even further back,
John 16:7-11
⁷But I tell you the truth, it's to your advantage that I go away; for if I do not go away, the Helper will not come to you; but if I go, I will send Him to you. ⁸And He, when He comes, will convict the world concerning sin and righteousness and judgment; Sinconcerning sin, because they do not believe in Me; And concerning righteousness, because I go to the Father and you no longer see Me; And concerning judgment, because the ruler of this world has been judged.
It is through God's spirit that we become aware of sin and become aware of being sinners. That sense of guilt, that attitude of a broken heart and a defeated mind, makes
▪︎ that with joy and gratitude we seize the only opportunity to get rid of our sins,
▪︎ that we believe in the Lamb of God who takes away the sin of the world.
This too is the work of God's Spirit.
▪︎ He preached to us Jesus and
▪︎ He shows us the meaning of the cross,
but beyond all this there is another experience of baptism with the Holy Spirit
---
Internet: harryschoemaker.nl
Or directly to: devotionals.harryschoemaker.nl
P.S.: Since my daily Bible messages went to over 10 million people, Facebook doesn't allow me anymore to share these messages in groups (except my own). So if you don't want miss out on them, you better join my group "The Worldwide Ekklesia" or follow me on Twitter: @schoemakerharry
About Author