A man with an unclean spirit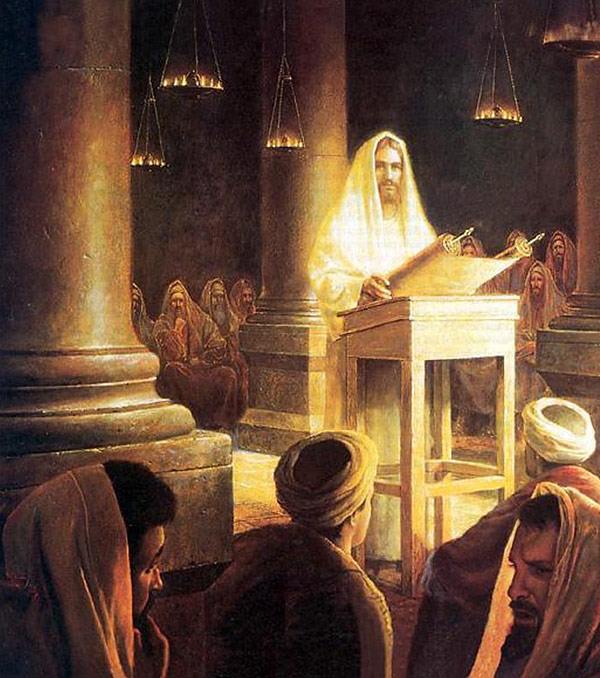 Mark 1:23
Just then there was a man in their synagogue¹
with² an unclean³ spirit⁴; and he cried out⁵,
¹) Like we use the word church in different ways, the word συναγωγή‭ sunagoge (pronounced as ‭soon–ag–o–gay'‭) has in a similar way two meanings. The church is the assembly of believers, but when people say "I am going to church" people often mean the building.
‭‭‭The synagogue is the congregation, the assembly. In the New Testament, an assembling together of men, or an assembly of men‭.
▪︎It is in the first place an assembly of Jews who are formally gathered together to offer prayers and listen to the reading and expositions of the scriptures. Assemblies of that sort were held every sabbath and feast day, afterwards also on the second and fifth days of every week. Later it was also used of an assembly of Christians who were formally gathered together for religious purposes‭.
▪︎In the second place it are the buildings where those solemn Jewish assemblies are held. Synagogues seem to date back to the Babylonian exile. In the times of Jesus and the apostles every town, not only in Palestine, but also among the Gentiles if it contained a considerable number of Jewish inhabitants, had at least one synagogue, the larger towns had several, or even many. These were also used for trials and inflicting punishment.‭
²) A man who was in the power of;
With an unclean spirit — literally reads "in an unclean spirit", that is, so entirely under demonically power that his personality was sunk for the time in that of the spirit.
³) In a moral sense: unclean in thought and life; The frequency with which this character of "impurity" is ascribed to evil spirits – some twenty times in the Gospels -is not to be overlooked.
⁴) Demon
⁵) To raise a cry from the depth of the throat
From other translations:
Just at that time there was in their synagogue an unclean spirit; and now [immediately] he raised a deep and terrible cry from the depths of his throat, saying, [AMP]
And immediately there was in their synagogue a man with an unclean spirit. And he cried out, [ESV]
Suddenly, while still in the meeting place, he was interrupted by a man who was deeply disturbed and yelling out, [MSB]
And there was in their synagogue a man with an unclean spirit; and he cried out, [KJV]
Just then a man in their synagogue who was possessed by an evil spirit cried out, [NIV]
A man possessed by an evil spirit was in the synagogue, [NLT]
Now there was a man in their synagogue with an unclean spirit. And he cried out, [NKJV]
Now let us see what this verse is telling us.
In addition to His preaching, the authority of the Lord Jesus is immediately reflected in the confrontation with demonic powers.
In the synagogue where Jesus is teaching (Mark 1:22), there appears to be someone who has an "unclean spirit," he is possessed by a demon.
There is no question here that this man has certain symptoms, or sickness, as a result of the indwelling demon (as is the case, for example, in Mark 9:25).
Jesus had previously had a confrontation with the devil in the desert (Mark 1:13), and now that He teaches the people openly, it also causes an open confrontation with the powers of the devil.
The unclean spirit makes the man he holds captive scream (Mark 5:7; 9:26; Luke 4:34; 8:28). This interrupts the teaching that Jesus gave in a negative and noisy manner and disturbs the attention of the audience.
It is in fact a direct attack on the authority of the Lord Jesus.
× 0 ×
While Jesus is preaching, a scream suddenly sounds in the synagogue
Who does that? One of the visitors.
But not a person who is good in his mind, and is healthy in every way. He acts like a madman.
The phenomenon of possession was common in Jesus' day.
Jesus is God-in-the-flesh. God has come to dwell among men in Him. That is imitated by the devil. He is the great impersonator. He also comes in the flesh. He seizes people, which he takes completely under his control. He lives and rules in them in such a way that they become unwilling instruments in his hand. They are reduced to slaves. Poor poor people, with whom we should have deep compassion.
The text says that an unclean spirit lives in this man. That could mean that the devil has led him to all manner of debauchery, both in word and deed. This man is now thrown into battle by the devil. Right now, now that Jesus is preaching and people are impressed.
Be aware that the devil will always try anything to rob the Word of his power. After all, he does not grant us salvation!
× 0 ×
Twitter: @SchoemakerHarry
Internet: http://harryschoemaker.nl
Website: https://devotionals.harryschoemaker.nl
Facebook: https://www.facebook.com/worldwide.ekklesia/
Facebook Group: https://www.facebook.com/groups/302675914424623/
About Author