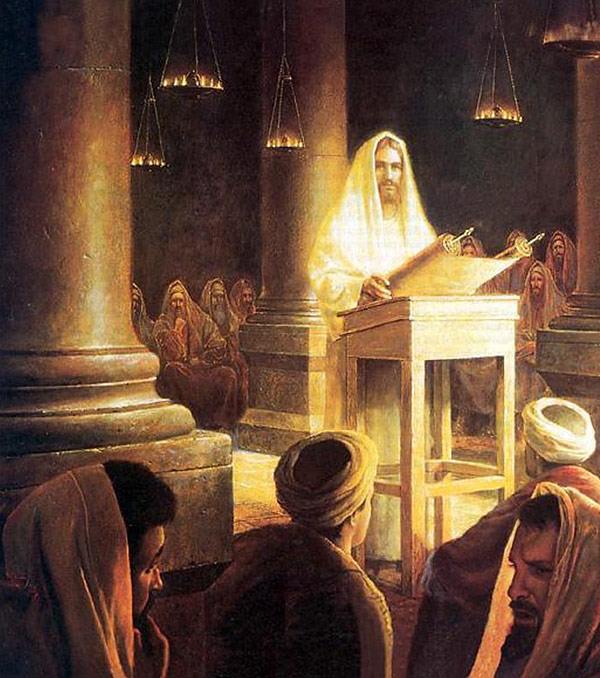 Mark 1:25 (KJV)
And Jesus rebuked¹ him, saying,
Hold thy peace²,
and come out³ of him
¹) Rebuke, reprove, censure severely‭, to admonish, or charge sharply‭
²) Literally: to close the mouth with a muzzle, or to muzzle‭. Metaphorically: to stop the mouth, make speechless, reduce to silence‭
³) Or: go out
From other translations:
And Jesus rebuked him, saying, Hush up (be muzzled, gagged), and come out of him! [AMP]

But Jesus rebuked him, saying, "Be silent, and come out of him!" [ESV]

Jesus shut him up: "Quiet! Get out of him!" [MSB]

"Be quiet!" said Jesus sternly. "Come out of him!" [NIV]

Jesus cut him short. "Be silent! Come out of the man." [NLT]

But Jesus rebuked him, saying, "Be quiet, and come out of him!" [NKJV]

And Jesus rebuked him, saying, "Be quiet, and come out of him!" [NASB]
Now let us see what this verse is telling us.
How does it end there in the synagogue?
How will Jesus respond to the words of the devil spoken through the mouth of the demoniac?
He rebukes him, we read. And He gives him a clear command.
No, Jesus is not going to reason, or negotiate with the devil, He will not discuss the matter.
As He showed His authority in the preaching, so He does it again.
The devil has to keep his mouth shut. Immediately!
And he has to let go of his prey. Instantly!
And the consequence? The devil has no choice. He must obey.
He cannot compete with Jesus. His word is with power. He must comply with that. Oh yes, he still has one last convulsion, and throws the poor man back and forth. He is still going on horribly. But everything ends well. The demoniac is not injured, and hereafter is a redeemed man.
Thanks to the intervention of the Christ.
The Lord Jesus achieves a complete victory here. With a single word!
Yes, Jesus is the Conqueror !!
Soon the devil will lie defeated at His feet.
The head of the snake is crushed.
And the time is also coming that the evil one is cast out into the outer darkness. Then his power is done for good. Do you ever suffer from the devil? Then know that he is completely defeated!
Jesus rebuked him
By 'him' is not meant the man who is possessed, but the unclean spirit that is in him, as is evident from the last phrase of this verse: 'get out of him' (from the man).
Jesus is stronger than the evil spirit; His power is greater, for His authority comes directly from God. That is why He can punish demons (Mark 3:27, compare Mark 9:25; Matthew 17:18).
First of all, Jesus orders the demon to be silent. The verb used (phimo) literally means 'muzzles' (phimos is 'muzzle').
He doesn't want a demon (an angel of the devil) to make Him known. This doesn't fit God's plan (see Mark 1:34; 3:12, compare Acts 16:16-18).
Then the Lord Jesus commands the unclean spirit to leave the man, to reveal the territory he occupied (cf. Mark 1:34,39).
The Jews had long believed that one of the actions of the Messiah would be to drive out and destroy the demons (cf. Genesis 3:15; Acts 10:38; 1 John 3:8).
Mark often speaks of such confrontations between the Lord Jesus and demonic powers. And time and again Jesus' power proves to be the strongest and the demons are cast out (see for example Mark 5:8; 7:29v .; 9:26, cf. 6:13; 16:17).
Be quiet
This order was only concerning the testimony the demon gave about Him, as it is not to demons to testify like this. Afterwards He would willingly permit the demon to cry out for fear or rage (Mark 1:26).
The Lord Jesus wants good words to be spoken of Him, but He does not want under any condition or circumstance that this is done by a demon, a devil. Evil spirits must not bear witness to his Messiahship.
That is why He silences this demon within the demoniac in the synagogue at Capernaum.
We read of this possessed man that he had an unclean spirit. He was a man completely possessed by the devil. However, the Savior knew what to do with this unclean spirit. He banished it.
Since the Fall, we all naturally have that impurity, sin, in us. I do not mean now that we all have such an unclean spirit similar to the one that this poor man possessed, but an impurity that always seeks itself, and is at odds with the will of the Holy Spirit in our lives. Once we followed Jesus, once we picked up our cross, life is a continuous struggle. We need our spiritual weaponry continually.
Ephesians 6:11‭-‬18 KJV
Put on the whole armour of God, that ye may be able to stand against the wiles of the devil. For we wrestle not against flesh and blood, but against principalities, against powers, against the rulers of the darkness of this world, against spiritual wickedness in high places. Wherefore take unto you the whole armour of God, that ye may be able to withstand in the evil day, and having done all, to stand. Stand therefore, having your loins girt about with truth, and having on the breastplate of righteousness; And your feet shod with the preparation of the gospel of peace; Above all, taking the shield of faith, wherewith ye shall be able to quench all the fiery darts of the wicked. And take the helmet of salvation, and the sword of the Spirit, which is the word of God: Praying always with all prayer and supplication in the Spirit, and watching thereunto with all perseverance and supplication for all saints;
How do we ever get rid of that uncleanness ?
Only through the one-sided work of God in our lives. That is why we need to go to Him again and again and stay close to Him.
Only by remaining in Him can we overcome the evil that clings to us over and over again, and get rid of our uncleanness. Because there is a Savior who says: All power is given unto me in heaven and in earth. (Matthew 28:18, KJV)
× 0 ×
Twitter: @SchoemakerHarry
Internet: http://harryschoemaker.nl
Website: https://devotionals.harryschoemaker.nl
Facebook: https://www.facebook.com/worldwide.ekklesia/
Facebook Group: https://www.facebook.com/groups/302675914424623/