The parable of the sower 1/2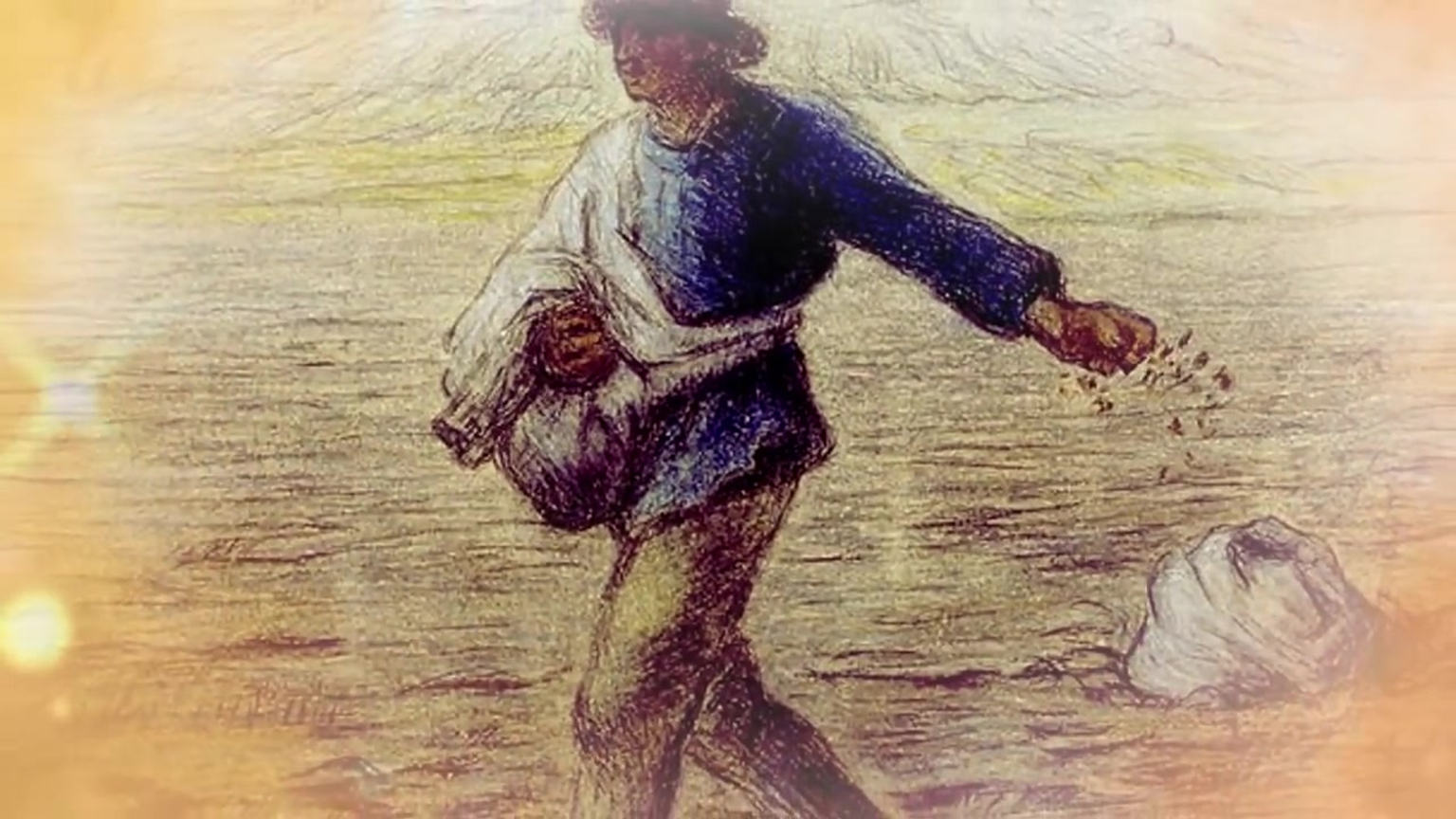 Matthew 13:1-9,18-23
¹That day Jesus went out of the house and was sitting by the sea. ²And large crowds gathered to Him, so He got into a boat and sat down, and the whole crowd was standing on the beach. ³And He spoke many things to them in parables, saying,
Behold, the sower went out to sow; ⁴and as he sowed, some seeds fell beside the road, and the birds came and ate them up.
⁵Others fell on the rocky places, where they did not have much soil; and immediately they sprang up, because they had no depth of soil. ⁶But when the sun had risen, they were scorched; and because they had no root, they withered away.
⁷Others fell among the thorns, and the thorns came up and choked them out.
⁸And others fell on the good soil and yielded a crop, some a hundredfold, some sixty, and some thirty.
⁹He who has ears, let him hear.
Explanation
¹⁸Hear then the parable of the sower.
¹⁹When anyone hears the word of the kingdom and does not understand it, the evil one comes and snatches away what has been sown in his heart. This is the one on whom seed was sown beside the road.
²⁰The one on whom seed was sown on the rocky places, this is the man who hears the word and immediately receives it with joy; ²¹yet he has no firm root in himself, but is only temporary, and when affliction or persecution arises because of the word, immediately he falls away.
²²And the one on whom seed was sown among the thorns, this is the man who hears the word, and the worry of the world and the deceitfulness of wealth choke the word, and it becomes unfruitful.
²³And the one on whom seed was sown on the good soil, this is the man who hears the word and understands it; who indeed bears fruit and brings forth, some a hundredfold, some sixty, and some thirty.
Devotional
God's Word wants to bear fruit!
People just keep coming to Jesus.
Do they do that for the healing miracles or do they really want to listen to what He has to say?
A personal question for you: For what purpose do you read the Bible?
With a story from ordinary life, Jesus makes something clear here about the coming of the Kingdom of God.
His parables want to bring you to a stop, so that you really take time to think about things. You have to want to know what Jesus means by these images. That doesn't just come to you. You have to do something for that. Surrender your own ideas to Him and receive His thoughts into your heart.
In the parable of the sower, Jesus makes it clear that the Word of God…
▪︎ desires not our outward assent, but our conversion,
▪︎ not our outward willingness to listen, but our obedience,
▪︎ not our admiration, but our faith (cf. Romans 1:5).
You can hear the Word of God, but think no more about it.
You can understand it, but you don't want it.
And then the devil can do his work (Matthew 13:4,19).
Decisive as to whether God's Word works in your heart or Satan's is the personal choice you make.
You can also gladly accept God's Word, but not grow.
Then everything remains superficial, your faith has no roots, no depth.
Then you are as fickle as the weather, a plaything of circumstances (Matthew 13:5,6,20,21).
You can also give the Bible a place in your life, but not the full place.
You then also give space in your heart to other things. Things that must not remain in it for the new life to grow (Revelation 2:11).
For example, worry. Or the lust for wealth. This undermines your trust in God (Matthew 13:7,22).
You cannot serve two masters (Matthew 6:24)!
Where does it come to then?
That you hear and hold on to God's Word, don't let it go when the going gets tough and don't let it get overgrown by other things (Matthew 13:8,23).
Then your life bears fruit, it becomes sanctified (Luke 8:15, Romans 6:22).
Question
How does Colossians 3:1-3 show how you may and can rise above circumstances?
Prayer Suggestion
Ask the Lord to teach you not to dwell on things that keep you from Him.
□ ■ □
Read more of these messages at: https://devotionals.harryschoemaker.nl
Download your Bible pictures from: http://bijbelplaatjes.nl
Email: devotionals@harryschoemaker.nl
Twitter: @schoemakerharry