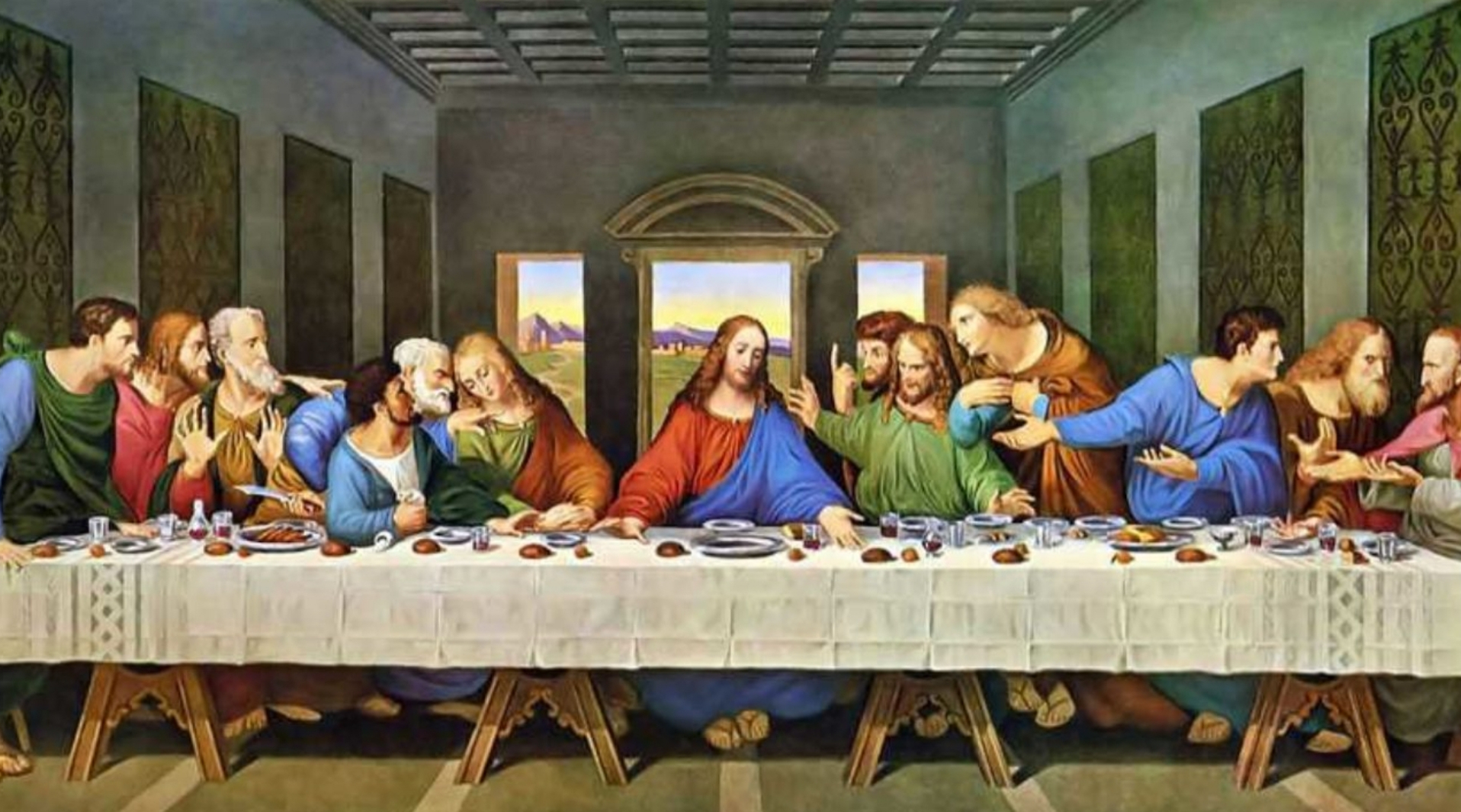 Mark 14:12-25
¹²On the first day of Unleavened Bread, when the Passover lamb was being sacrificed, His disciples said to Him, "Where do You want us to go and prepare for You to eat the Passover?"
¹³And He sent two of His disciples and said to them, "Go into the city, and a man will meet you carrying a pitcher of water; follow him; ¹⁴and wherever he enters, say to the owner of the house, 'The Teacher says, "Where is My guest room in which I may eat the Passover with My disciples?"' ¹⁵And he himself will show you a large upper room furnished and ready; prepare for us there."
¹⁶The disciples went out and came to the city, and found it just as He had told them; and they prepared the Passover.
¹⁷When it was evening He came with the twelve.
¹⁸As they were reclining at the table and eating, Jesus said, "Truly I say to you that one of you will betray Me – one who is eating with Me."
¹⁹They began to be grieved and to say to Him one by one, "Surely not I?"
²⁰And He said to them, "It is one of the twelve, one who dips with Me in the bowl.
²¹For the Son of Man is to go just as it is written of Him; but woe to that man by whom the Son of Man is betrayed! It would have been good for that man if he had not been born."
The Lord's Supper
²²While they were eating, He took some bread, and after a blessing He broke it, and gave it to them, and said, "Take it; this is My body."
²³And when He had taken a cup and given thanks, He gave it to them, and they all drank from it.
²⁴And He said to them, "This is My blood of the covenant, which is poured out for many.
²⁵Truly I say to you, I will never again drink of the fruit of the vine until that day when I drink it new in the kingdom of God."
Devotional
We have recently read about the relationship between the Passover and the Feast of Unleavened Bread.
▪︎ The Passover was slaughtered in the temple square (Compare Deuteronomy 16:5,6).
▪︎ The unleavened bread was a reminder of the haste with which people had to leave Egypt at that time (Exodus 12:14-20).
Jesus and his disciples are still in Bethany (See Mark 14:3).
But not there, but in Jerusalem the Passover meal was to be consumed.
In Mark 14:12-16 we read about the two disciples who have to follow a man with a pitcher of water on his head to get into the house where Jesus wants to be. Usually, women carried pitchers of water (Compare John 4:7).
Could this man have been Mark himself, whose mother lived in a house of her own in Jerusalem (Acts 12:12)?
Then comes the last night before Jesus' death. He tells his disciples that one of them will hand Him over.
The mood is loaded. Can one of them do such a thing (Mark 14:17-19)?
It is indeed unimaginable, that someone who has faithfully served his Master for 3 years hands him over.
Yet Jesus did not exclude even Judas (Compare John 13:26) from taking part in this meal – an indication to us that we must be careful about refusing people to take part of the Memorial.
At the same time, Jesus says that it would be better for Judas, if he should not have existed. For then he could not have committed the evil act of treason (Mark 14:20, 21).
With the meal, Jesus takes some bread and says, "Take, this is my body (Mark 14:22). And a cup with the words: "This is the blood of my covenant, which is shed for many (Mark 14:24; Compare Exodus 24:8; See also 1 Corinthians 11:23-26; Jeremiah 31:31-34). The elements of the Lord's Supper are essentially connected with Jesus Himself, with his body and blood.
Despite the grave of death, Jesus points out His disciples and us to the coming of His Kingdom in glory (Mark 14:25).
Question for self-reflection
▪︎ How do you take the Memorial?
Prayer suggestion
▪︎ Thank the Lord Jesus for the signs of bread and wine!
Twitter: @SchoemakerHarry
Website 1: https://devotionals.harryschoemaker.nl
Website 2: http://bijbelplaatjes.nl