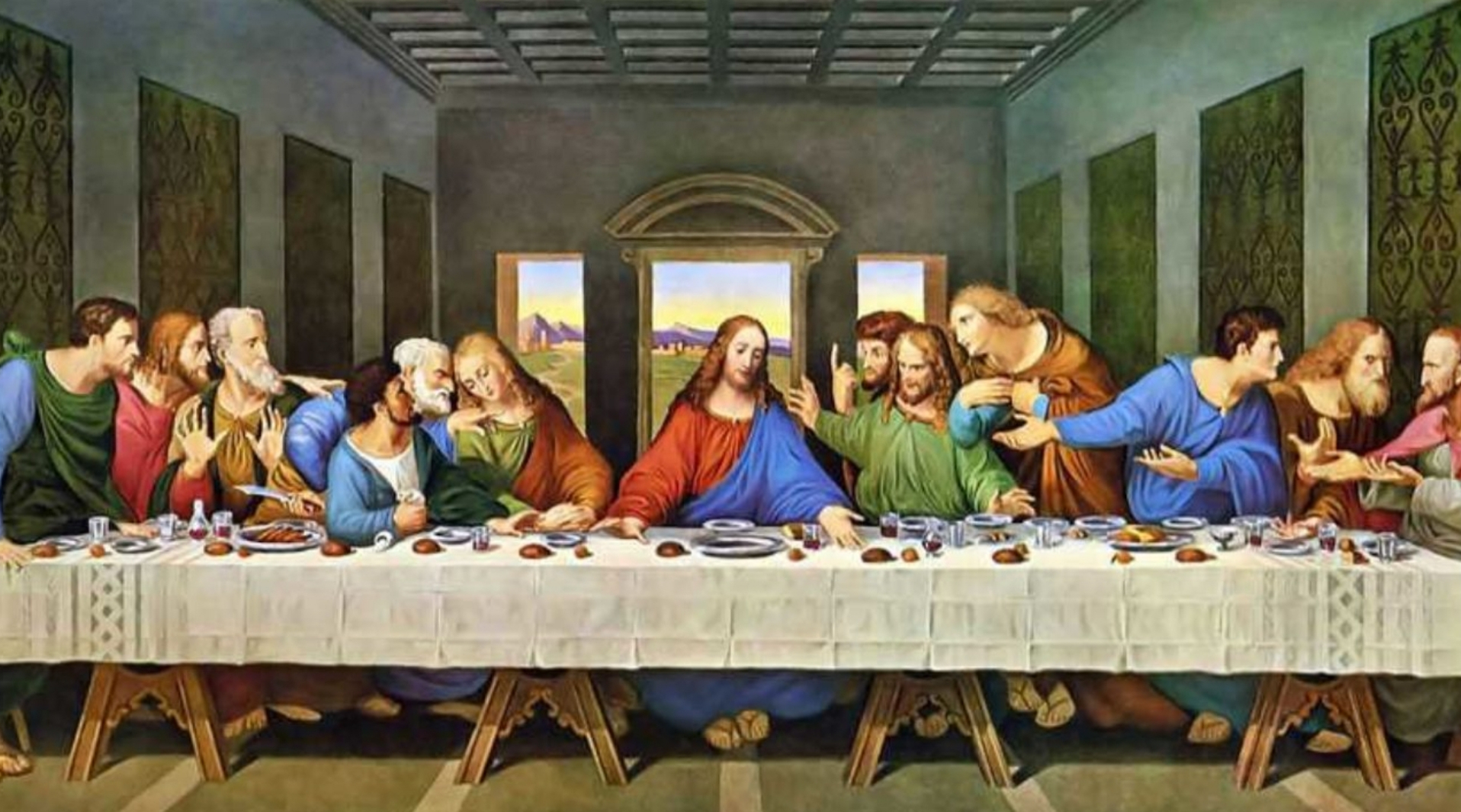 Mark 14:12-25
¹²On the first day of Unleavened Bread, when the Passover lamb was being sacrificed, His disciples said to Him, "Where do You want us to go and prepare for You to eat the Passover?"
¹³And He sent two of His disciples and said to them, "Go into the city, and a man will meet you carrying a pitcher of water; follow him; ¹⁴and wherever he enters, say to the owner of the house, 'The Teacher says, "Where is My guest room in which I may eat the Passover with My disciples?"' ¹⁵And he himself will show you a large upper room furnished and ready; prepare for us there." ¹⁶The disciples went out and came to the city, and found it just as He had told them; and they prepared the Passover.
¹⁷When it was evening He came with the twelve. ¹⁸As they were reclining at the table and eating, Jesus said, "Truly I say to you that one of you will betray Me-one who is eating with Me." ¹⁹They began to be grieved and to say to Him one by one, "Surely not I?" ²⁰And He said to them, "It is one of the twelve, one who dips with Me in the bowl. ²¹For the Son of Man is to go just as it is written of Him; but woe to that man by whom the Son of Man is betrayed! It would have been good for that man if he had not been born."
The Lord's Supper
²²While they were eating, He took some bread, and after a blessing He broke it, and gave it to them, and said, "Take it; this is My body." ²³And when He had taken a cup and given thanks, He gave it to them, and they all drank from it. ²⁴And He said to them, "This is My blood of the covenant, which is poured out for many. ²⁵Truly I say to you, I will never again drink of the fruit of the vine until that day when I drink it new in the kingdom of God."
Devotional
The Jews were to celebrate the passover meal in Jerusalem.
That is why Jesus sends two of His disciples there to prepare everything in a house. The address where He and his twelve students will have dinner in the evening remains unknown for a long time. In this way He prevents to be disturbed. After all, Judas Iscariot was waiting for his chance to hand him over (Mark 14:10,11).
Jesus has longed for this special passover celebration (Luke 22:15). That's why He protects this gathering.
Yet the enmity cannot be ruled out, for it has gone in with them: Truly I say to you, one of you will betray me; one that eats with me" (Mark 14:18). These words of Jesus cause great dismay to the disciples. Can no one be trusted anymore? Can they no longer trust each other and not even themselves (Mark 14:19)?
It is also astonishing that someone, a friend, a disciple, who dips in the same dish while eating with Jesus will betray Him (Mark 14:20). The friend turns out to be an enemy (Psalms 41:10). This part of Jesus' suffering was also recorded in the Bible, and described in Mark 14:21.
But the conclusion that there was nothing Judas could do about it is not correct. He has his own responsibility. What he does, is so bad that it would have been better, if he would never have been born (Mark 14:21).
Jesus accepts His suffering and indicates its meaning. He will sacrifice Himself for our good. By handing out bread and cup, He gives Himself to us, as the One who died for us because of love. His blood was shed for the remission of sins (Mark 14:22-24; 1 Corinthians 5:7).
He was severely punished to giving us peace with God (Isaiah 53:5; Romans 5:1).
Blood was also shed at the making of the covenant between the Lord and the Israelites. The blood connected them (Exodus 24:8). Now this connection is there through the blood of the Messiah. It is the most precious bond there is.
Jesus already looks to the future through His coming suffering (Compare Hebrews 12:2). The feast will not come for Him until we are with Him. He's not going to enjoy the glory on His own. He is waiting for us. We will meet again with a cup of new wine (Mark 14:25; Revelation 19:6-9).
Question
▪︎ What does 1 John 1:5-2:2 say about Jesus' blood?
Prayer suggestion
▪︎ Thank the Lord Jesus for the new covenant in His blood.
Twitter: @SchoemakerHarry
Website 1: https://devotionals.harryschoemaker.nl
Website 2: http://bijbelplaatjes.nl