Cleansing of the temple (2 of 5)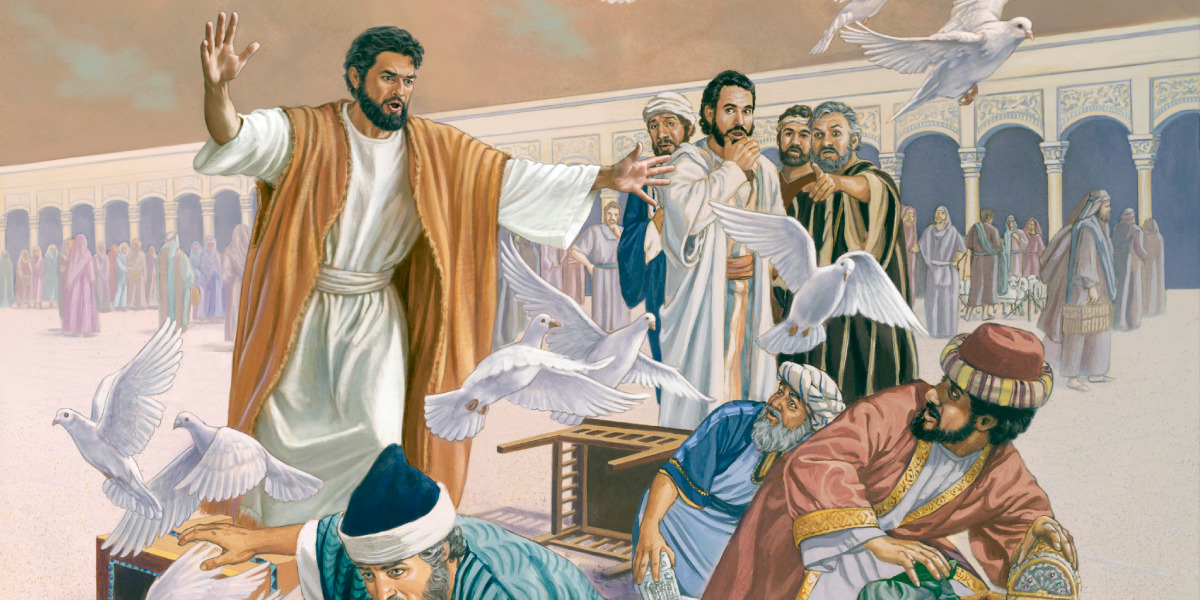 Mark 11:15-19 NASB
¹⁵Then they came to Jerusalem. And He entered the temple and began to drive out those who were buying and selling in the temple, and overturned the tables of the money changers and the seats of those who were selling doves; ¹⁶and He would not permit anyone to carry merchandise through the temple.
¹⁷And He began to teach and say to them, "Is it not written, 'My house shall be called a house of prayer for all the nations'? But you have made it a robbers' den."
¹⁸The chief priests and the scribes heard this, and began seeking how to destroy Him; for they were afraid of Him, for the whole crowd was astonished at His teaching.
¹⁹When evening came, they would go out of the city.
Devotional
The annoyance of Jesus continues in Jerusalem.
When He comes into the temple, He becomes angry again. In the middle of the sacred temple area, He unleashes a major riot.
▪︎ The sales stalls go upside down,
▪︎ the (sacrificial) cattle, waiting for buyers, were driven out of the gate
▪︎ and Jesus made sure that no one with ritual materials entered the temple.
Why is He angry?
Jesus says it Himself. The temple was made a den of thieves, while it was to be a place of worship for the nations (Mark 11:17; This is not a new idea of ​​Jesus. He quotes Isaiah 56:7), but there was no room for it.
The temple had become a thriving business, where the upper classes of the priestly caste made enormous profits.
Those who sincerely wanted to serve the Lord were I'll treated. It hurt Jesus that God had been made inaccessible by human institutions.
Jesus expected something from the temple.
▪︎ He expected God to be served.
▪︎ He expected believing people to be helped by the priests,
▪︎ He expected the people to be taught, and demonstrated the way to God.
But none of these things He found in the temple.
Rather than a house of service where priests help believers, the temple was a trading house. Jesus expected to find fruit there, but did not find it …
Thus, these two events of that day are related.
The deep disappointment of Jesus was about the temple and the priests who were there to lead the people in the service of God.
He longed for fruit … but He found nothing.
In the same way Jesus looks today forward to find fruit in our lives and in our churches …
What will He find …?
Question for self-reflection
▪︎ What fruit can Jesus find in our congregations?
Prayer suggestion
▪︎ Ask the Lord to prune you so you too can bear fruit (John 15: 1-8)
Twitter: @SchoemakerHarry
Website 1: https://devotionals.harryschoemaker.nl
Website 2: http://bijbelplaatjes.nl