Cleansing of the temple (1 of 5)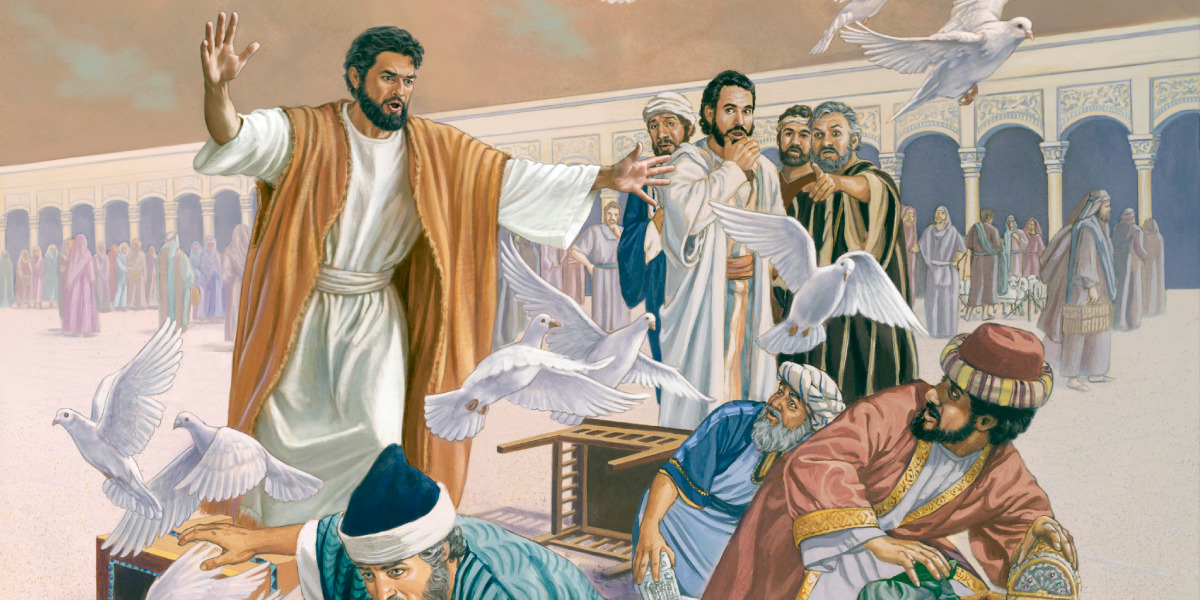 Mark 11:15-19
¹⁵Then they came to Jerusalem. And He entered the temple and began to drive out those who were buying and selling in the temple, and overturned the tables of the money changers and the seats of those who were selling doves; ¹⁶and He would not permit anyone to carry merchandise through the temple.
¹⁷And He began to teach and say to them, "Is it not written, 'My house shall be called a house of prayer for all the nations'? But you have made it a robbers' den."
¹⁸The chief priests and the scribes heard this, and began seeking how to destroy Him; for they were afraid of Him, for the whole crowd was astonished at His teaching.
¹⁹When evening came, they would go out of the city.
Study
In Mark 11:15 we read of His clearing the temple of the market-people, and of those that made it a thoroughfare.
When Jesus arrived in Jerusalem He went straight to the temple, and began to reform those abuses which He had seen the day before.
When the Redeemer came to Zion, He came to turn away the ungodliness from Jacob (Romans 11:26 ), and not, as he was falsely accused, to destroy the temple, but to purify and refine it.
● He cast out the buyers and sellers, overthrew the tables of the money-changers (and threw the money to the ground, the fitter place for it), and threw down the seats of them that sold doves.
This He did as one having authority, as a Son in His own house.
The filth of the daughter of Zion is purged away, not by might, nor by power, but by the spirit of judgment, and the spirit of burning. And He did it without opposition; for what He did, was manifested to be right and good, even in the consciences of those that had connived at it, and countenanced it, because they got money by it.
It may be some encouragement to zealous reformers, that frequently the purging out of corruptions, and the correcting of abuses, prove an easier piece of work than was apprehended.
Prudent attempts sometimes prove successful beyond expectation, and there are not those lions found in the way, that were feared to be.
● He would not suffer that any man should carry any vessel, any sort of goods or wares, through the temple, or any of the courts of it, because it was a shorter way, and would save them the labour of going around (Mark 11:16).
The Jews owned that it was one of the instances of honour due to the temple, not to make the mountain of the house, or the court of the Gentiles, a road, or common passage, or to come into it with any bundle.
● He gave a good reason for this: "because it was written, My house shall be called of all nations, The house of prayer" (Mark 11:17).
So it is written, (Isaiah 56:7).
It shall pass among all people under that character. It shall be the house of prayer to all nations, it was so in the first institution of it.
When Solomon dedicated it, it was with an eye to the sons of the strangers, (1 Kings 8:41). And it was prophesied that it should be yet more so.
Christ will have the temple, as a type of the gospel-church, to be:
▪︎ A house of prayer. After he had turned out the oxen and doves, which were things for sacrifice, he revived the appointment of it as a house of prayer, to teach us that when all sacrifices and offerings should be abolished, the spiritual sacrifices of prayer and praise should continue and remain for ever.
▪︎ That it should be so to all nations, and not only to the people of the Jews. For whosoever shall call upon the name of the Lord, shall be saved, though not of the seed of Jacob, according to the flesh. It was therefore insufferable for them to make it a den of thieves, which would prejudice those nations against it, whom they should have invited to it.
When Christ drove out the buyers and sellers at the beginning of his ministry, he only charged them with making the temple a house of merchandise (John 2:16); but now he chargeth them with making it a den of thieves, because since then they had twice gone about to stone him in the temple (John 8:59, 10:31), or because the traders there were grown notorious for cheating their customers, and imposing upon the ignorance and necessity of the country people, which is no better than downright thievery.
Those that suffer vain worldly thoughts to lodge within them when they are at their devotions, turn the house of prayer into a house of merchandise; but they that make long prayers for pretence to devour widows' houses, turn it into a den of thieves.
● The scribes and the chief priests were extremely nettled at this (Mark 11:18). They hated Him, and hated to be reformed by Him; and yet they feared Him, lest He should next overthrow their seats, and expel them, being conscious to themselves of the profaning and abusing of their power.
They found that He had a great interest, that all the people were astonished at His doctrine, and that every thing He said, was an oracle and a law to them; and what could He not attempt, what could He not effect, being thus supported?
They therefore sought, not how He might make their peace with him, but how they might destroy Him. A desperate attempt, and which, one would think, they themselves could not but fear was fighting against God.
But they didn't care about what they would do, as long as it supported their own power and grandeur.
Twitter: @SchoemakerHarry
Website 1: https://devotionals.harryschoemaker.nl
Website 2: http://bijbelplaatjes.nl
About Author