Casting away the garment (2 of 3)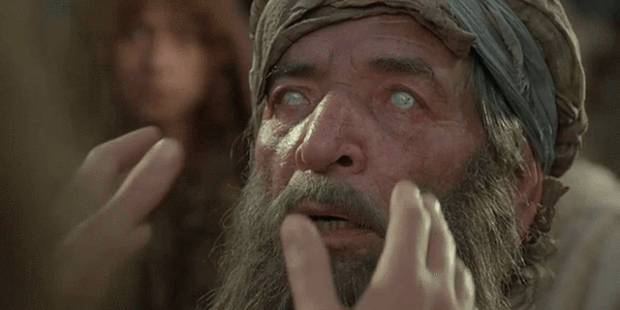 210126 07 – Mark 10:50
Mark 10:50 AV
And he, casting away his garment,
rose, and came to Jesus.‭
Devotional
How bad it is, to be blind with our carnal eyes.
Bartimaeus could have told us.
Never to be able to see the creatures, the light and colors.
However, it is much worse when the eyes of our soul are blind.
For what the eyes of the soul perceive refers to eternity.
There is One Who can and will open the blind eyes.
Your carnal eyes, but especially the eyes of your soul.
That is the Lord Jesus Christ, who opens the eyes even with mud.
With the mud of which man originally was created, and then as it were created new eyes.
Bartimeus heard from Him. And he called for help.
And Jesus stopped to see the blind man and to call him to Himself.
How many are on this world, who hear of the Christ, and of His power to open their eyes, but have never come to Him for help.
They feel no need and no urge to follow Him.
But Bartimeus is in a hurry. He throws off his garment because, it might, or could hinder him on his way to the Master.
And he rose and came to Jesus.
What faith this blind man has.
Are we one of them too?
▪︎ who throw off anything that may hinder us from going to our Savior,
▪︎ who have lost all burdens weighing on us through the sacrifice of the Christ,
▪︎ who, however flawed, rush to Him, because we have no more time to lose, and can no more miss out on anything of Him?
Twitter: @SchoemakerHarry
Website 1: https://devotionals.harryschoemaker.nl
Website 2: http://bijbelplaatjes.nl