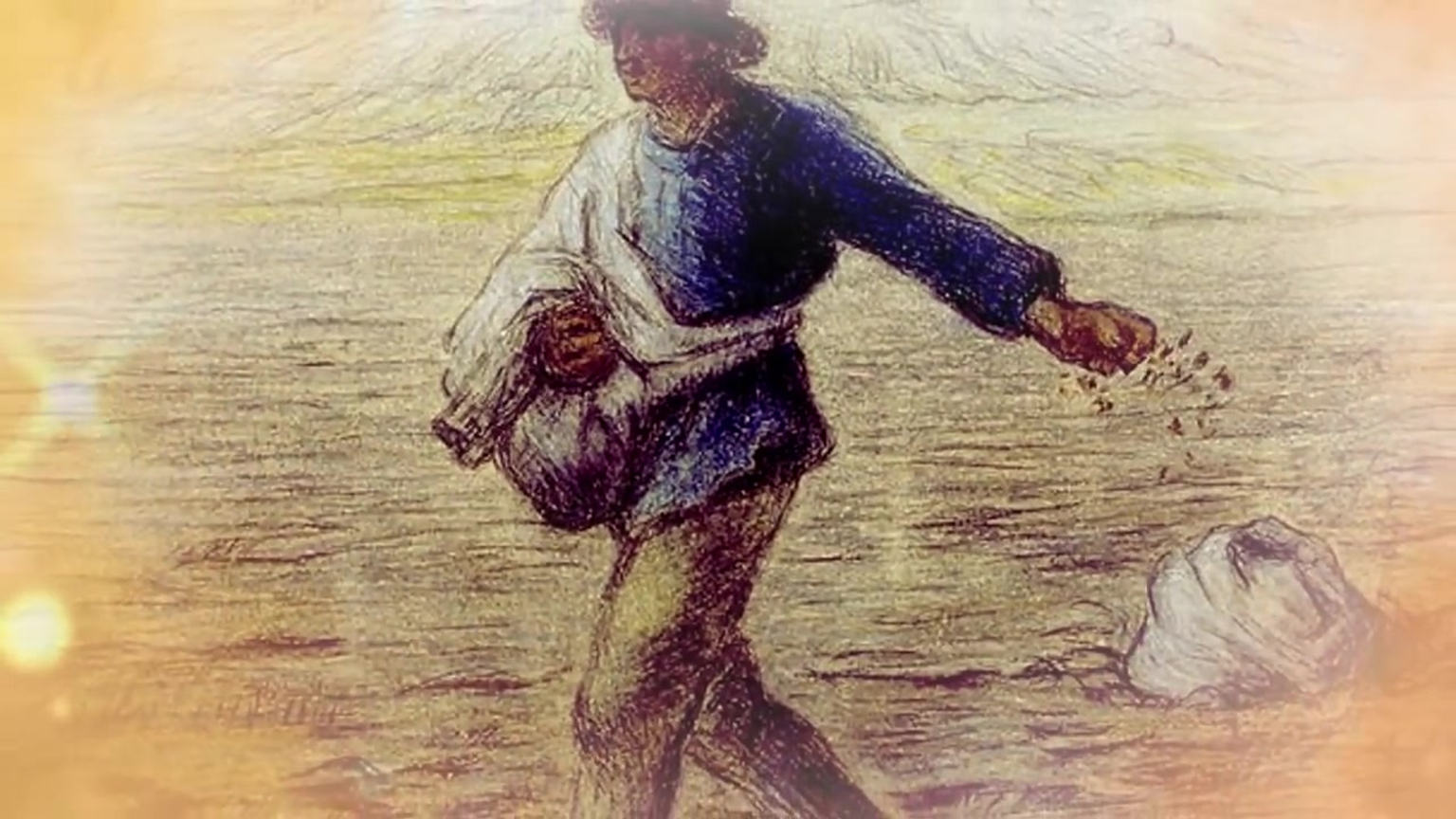 Mark 4:26-29
²⁶And He was saying, The kingdom of God is like a man who casts seed upon the soil; ²⁷and he goes to bed at night and gets up by day, and the seed sprouts and grows – how, he himself does not know.
²⁸The soil produces crops by itself; first the blade, then the head, then the mature grain in the head.
²⁹But when the crop permits, he immediately puts in the sickle, because the harvest has come.
Let us reflect on this.
In this passage Jesus is not primarily concerned with the good observer and what the Word of God does to him, but this time He is speaking from the point of view of the one who brings God's Word. In the first and last place, of course He Himself is. He sows the Word and comes back one day when the harvest is ripe.
But on behalf of Jesus a lot is also told from the Bible. When someone himself is really touched by the Gospel, he often has the desire to tell others about it. But I am also thinking of people who have the task of passing on the Good News: parents, teachers, youth leaders, ministers, evangelists and missionaries.
The encouragement that comes from the parable of this sower is to let those engaged in the transmission of faith concentrate on telling Bible stories and preaching God's Word. That is our work.
But we can't let the seeded Word come up. That's God's work.
Just bring what God says in the Bible and then hand it over to Him (Compare 1 Timothy 4:13,14, 2 Timothy 4:2).
Just like the farmer who has to sow the seed, but leaves it to nature and God.
God's Word is powerful (Compare 1 Peter 1:22-25). It contains all that is necessary to enable a fruitful life with God (Compare Isaiah 55:6-13). For that you have to exercise patience. You cannot force something like that. Something like that has to grow.
Transferring faith is a big word, because the one doing it, does nothing but explain the Bible, and give the other something in it, that gives him comfort, shows him the way, and so on.
Inadvertently, every educator sometimes feels that he can do so little.
What do you actually give? Sometimes you can sum up an entire Bible story with one word. But what does the other get with it?
Jesus comforts the educators and says: Even if it is very small in your opinion, it is still of great value. Consider what grows from a mustard seed. That seed is the size of a grain of sand. And yet it becomes a large shrub in which the birds can find shade!
Prayer suggestion:
▪︎ Ask God to give growth and fruit on the work you are allowed to do for Him.
× 0 ×
Twitter: @SchoemakerHarry
Internet: http://harryschoemaker.nl
Website: https://devotionals.harryschoemaker.nl
Facebook Page: https://www.facebook.com/worldwide.ekklesia/
Facebook Group: https://www.facebook.com/groups/302675914424623/