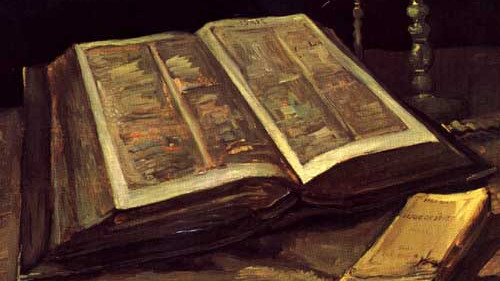 TWO "TESTAMENTS"
The Bible is divided into two parts.
The first part is called "Old Testament" and contains 39 books.
The second part is called "New Testament" and has 27 books.
Our word "testament" comes from the Latin word "testamentum." You can translate that with: last will, or: covenant.
The parts are so named because the Bible is all about a covenant: God's covenant with people. First only with Israel, later with all people.
The main line in the books of the Old Testament is the covenant that God has made with the people of Israel.
In these books the history of the people of Israel is told: the origin of that people and what happened to them, up to 400 years before the birth of Jesus. But it also contains very personal stories, prayers and songs from people who wanted to serve God.
The 39 books of the Old Testament are the books of the Jewish people. They are still read by the Jews. They call it: the Tenach and they were originally written in Hebrew.
In the New Testament there are books and letters that were written after the birth of Jesus. They were written by people who came to believe in Jesus. The first four books, the "gospels" (gospel is: good news) tell about the life of Jesus on earth, and how God made a new covenant with people through Him.
You will also find a large number of letters from the first century. They are written to people who had come to believe in Jesus. The New Testament was originally written in Greek.
God's covenant with Abraham, Israel and David
The Old Testament is about God's covenant with Israel. But when you read it, you don't seem to come across one but a number of covenants. Yet it is in fact about one covenant, from which the other covenants arise.
It starts with the covenant that God makes with a single man: Abraham. That is long before the people of Israel arise. God promises Abraham that a great people will emerge from him and that his family will later own his own land. To confirm His promise, He makes a covenant with Abraham. Years later, He renews that covenant with Abraham's son Isaac. So Isaac "inherits" God's promise, as it were. And after Isaac's death, his son Jacob inherited this promise.
Jacob has twelve sons. From them the people of Israel arise. God brings that people from Egypt, through the desert, to the land He had already promised to Abraham.
Along the way He makes a covenant with them. That happens at Mount Sinai.
He promises that Israel will be his people forever.
He wants to live with them forever.
He will be their God and care for them forever. He loves them.
That is why He gives them righteous laws and rules of life. They are part of the covenant.
The Israelites must abide by those laws and rules of life, because then they will live the way God wants them to. Then they will be fine. If they love God and trust Him, He will take care of them. He will give them their own country where they will be able to live in peace forever. So God makes this covenant based on the covenant that He already made with Abraham.
Much later, God makes a covenant with one of the kings of Israel: King David. He is the second king who rules over Israel.
God promises him two things: that a son of his family will always be king, and that his people will live forever in their own country, if people continue to trust Him.
He promises that because of his earlier promise that He will take care of His people forever. So this covenant also stems from the previous covenant.
Eventually Jesus is born from the family of David: the eternal King.
To be continued.