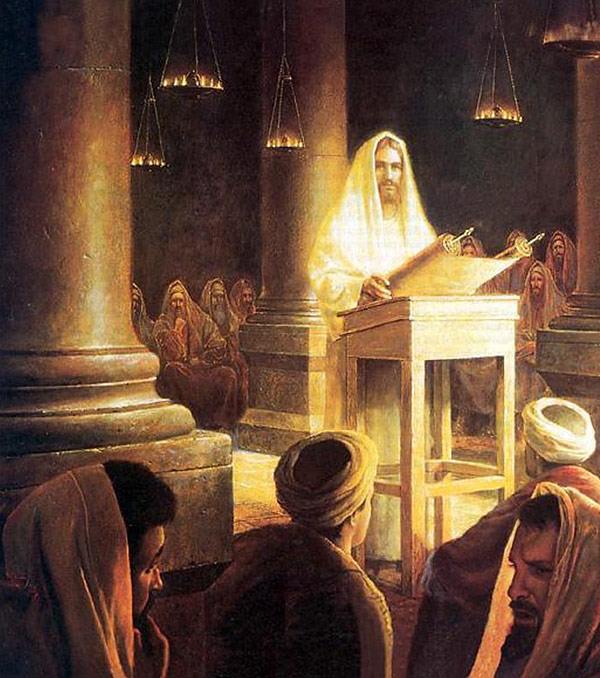 Matthew 12:9-14
⁹Departing from there, He went into their synagogue. ¹⁰And a man was there whose hand was withered. And they questioned Jesus, asking, "Is it lawful to heal on the Sabbath?" — so that they might accuse Him.
¹¹And He said to them, "What man is there among you who has a sheep, and if it falls into a pit on the Sabbath, will he not take hold of it and lift it out? ¹²How much more valuable then is a man than a sheep! So then, it is lawful to do good on the Sabbath."
¹³Then He said to the man, "Stretch out your hand!" He stretched it out, and it was restored to normal, like the other. ¹⁴But the Pharisees went out and conspired against Him, as to how they might destroy Him.
Devotional
Romans 13:10
Love does no wrong to a neighbor;
therefore love is the fulfillment of the law.
Handling God's commandments without love is very dangerous.
The Pharisees do that coldly and harshly.
Jesus has already told them that the LORD wants mercy instead of sacrifice (Matthew 12:7). But they continue mercilessly. Here they use God's Word to accuse Jesus (Matthew 12:10). If they can catch Him for a violation of the Sabbath, then they can put Him out of the way by stoning (cf. Exodus 31:12-17).
The Pharisees are also unmerciful to the disabled man.
They believe that healing on the Sabbath was only allowed if there was danger of life. And that is not the case with this man.
Then Jesus comes with the example of the one sheep that someone owns and falls into a pit on the Sabbath. Of course everyone took it for granted that such a sheep should be pulled out of the pit. A person is much more than an animal. So you may do good to your fellow man on the Sabbath (Matthew 12:11,12).
With his handicapped hand, this man can do nothing anymore.
▪︎ Would he have asked Jesus for healing?
▪︎ Would he have looked up to the Physician in anticipation of a miracle (cf. Exodus 15:26)?
The Pharisees are very different. They want to accuse Jesus.
Fortunately, Jesus does not care about their aggression. He totally heals the paralyzed hand (Matthew 12:13).
The man will have left happy and grateful.
His whole life and actions changed through the encounter with Jesus. How special that this miracle happened on the Sabbath!
The Pharisees are very different.
They discuss how to get rid of Jesus (Matthew 12:14; Compare Mark 3:6). Apparently they think they are allowed to do that, even on the Sabbath. They are fanatically, unloving and unmercifully engaged in God's commandments.
How do you view a Sunday?
Do you live that day strict and legal, or do you use it to do good to your neighbor?
Does love drive you or do you hold fast to the letter?
The Lord Jesus acted from a moved, loving heart for the person in need.
What a great example!
Question
What are you going to do next Sunday?
Prayer Suggestion
Pray that you will deal with God's commandments out of love.
□ ■ □
Read more of these messages at: https://devotionals.harryschoemaker.nl
Download your Bible pictures from: http://bijbelplaatjes.nl
Twitter: @schoemakerharry
Email: devotionals@harryschoemaker.nl