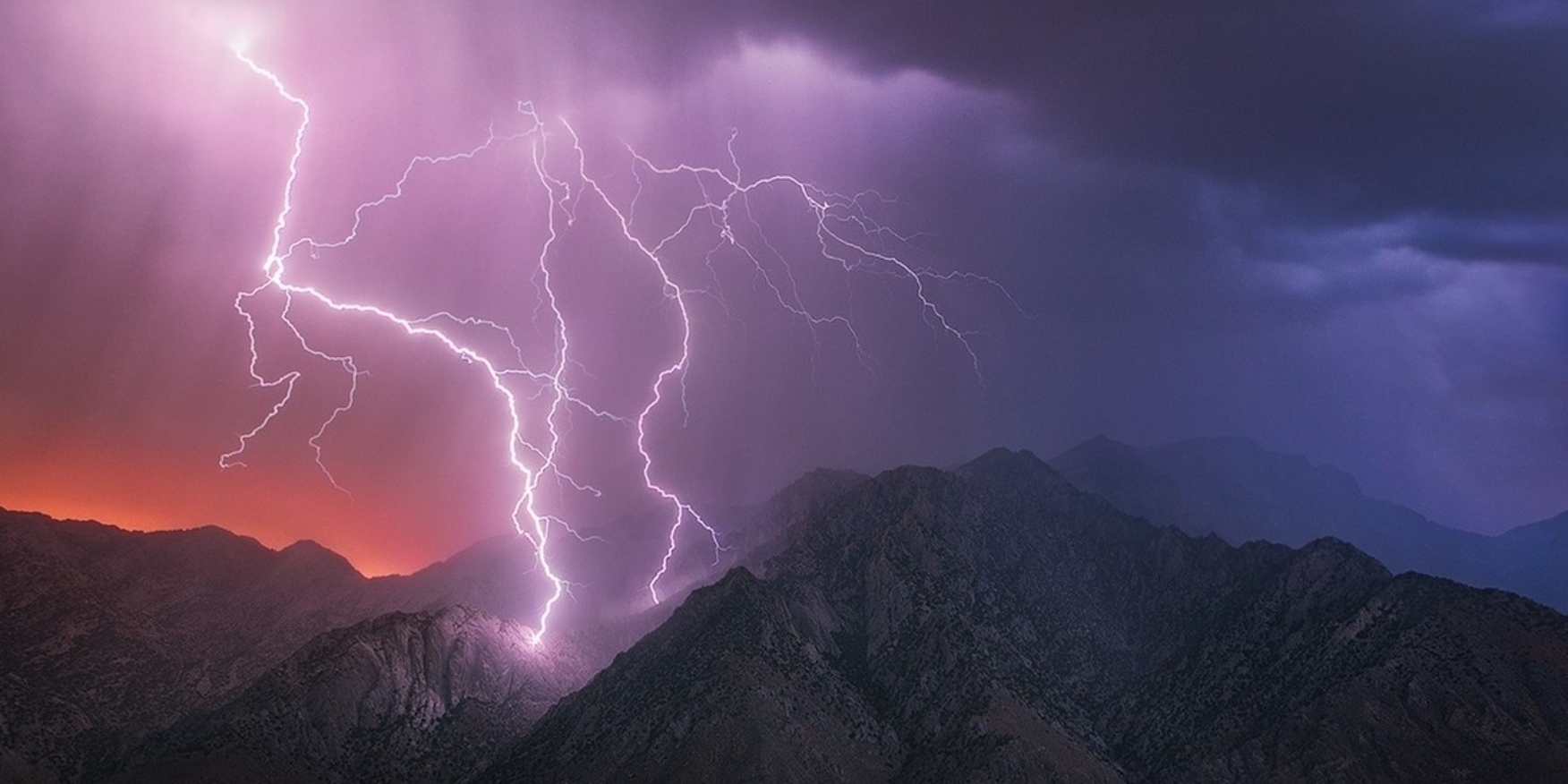 If you go on vacation, and someone says to you: "I hope you will experience a heavy thunderstorm in the mountains", you will be surprised to hear that.
Who wishes someone this during their vacation!
Somebody told me:
It was in 1948, that after a serious illness I had to go into the mountains to continue healing and I went along with the N.C. Travel association. We had arrived in one of the beautiful mountain passes on the Kulm height, then suddenly, unannounced, while it was beautiful sunny weather, a huge thunderstorm covered the sky.
Suddenly we were standing in the snow, and it crackled terribly all around us.
Fortunately, we were able to reach the hotel.
The thunders echoed against the mountain walls and it almost became a band of sounds. It was wonderful!
The storm subsided, and after dinner we went outside again.
Some took me in between them, and so we went to see the abyss.
There we saw in the depth that very heavy thundercloud hang between the mountain walls, above the inhabited world.
We heard the dull sound of the thunder reverberate. We continued to look down, fascinated.
The warm sun was now shining on top of the mountain, and it was just wonderful.
She also shone over all that heavy black cloud cover in that narrow gorge, conjuring a mighty glow of colors across those clouds. (Because clouds hold water, the sun makes the rainbow colors appear on them.)
Are those the same clouds that, seen from Earth, can bring such ominous things to us?
Are those the same clouds that, when we look upwards, are gray and threaten us?
Sometimes the sun conjures a silver or gold rim around it.
That's also what we say about the clouds in our lives.
There on top of the mountain tops we saw the emerald colors over the clouds.
How completely different it is seen from bottom to top, I now saw the clouds from top to bottom.
That is how God must see our darkness.
They are not dark to Him.
He sees the dark clouds in our lives in the glow of His light.
Swaying and coloring, full of life and surprises.
I was now allowed to watch from above.
I gazed breathlessly upon that heaving mass of light and life, God-glorifying, beautiful.
Just as you only see the golden edges below on earth, you can see the entire cloud cover colored completely violet above. There they are not threatening and obscuring.
Also look at the dark clouds in your life from above, on which the sun of God's love conjures up all colors.
We must transcend the earthly in faith.
Then we start to see our darkness from above, as God sees them.
It can sometimes be like a riot in your life. Dark clouds gather above your head, it can rain hard, and there can be heavy thunderstorms. Black clouds. The fierce lightning sows death and destruction. The thunders make you cringe …
But…
The sun of God's love shines above it, and the clouds are wonderfully colored. They go down. Deeper and deeper. Only one more golden mist, and then suddenly they are gone, and the view is clear again.
From above you look down on your sorrow, your care and your pain in the light of God; and the more you look, the more colors you see. God shines on them with the sun of His love!
This is also a lesson for me.
So often there is a fierce battle in me.
I too had to (and still must) learn life's lessons.
▪︎ My knees protesting more and more;
▪︎ My lungs that sometimes have difficulty getting air due to asthma;
▪︎ My heart that needed surgery twice to keep functioning;
▪︎ Diabetes;
But most of all
▪︎ The constant opposition in the sharing of the gospel (A battle that has been fought since I was twelve years old);
▪︎ Being welcome in denominations only if I keep my mouth shut (How could I ever be silent, and not speak about the God Who has given me so much love and grace?);
They are all, seen from below, such terribly dark clouds.
But I too may know that above those dark clouds, the sun of God's love is shining.
I advise, and call on you, to place the dark clouds in your life under the sun of God's love, which colors them to the glory of His name. And eventually your dark clouds will also sink deeper and deeper, until there is only a golden mist left, and then they will suddenly be gone, and then the view upwards will be clear again for you.
Twitter: @SchoemakerHarry
Website 1: https://devotionals.harryschoemaker.nl
Website 2: http://bijbelplaatjes.nl