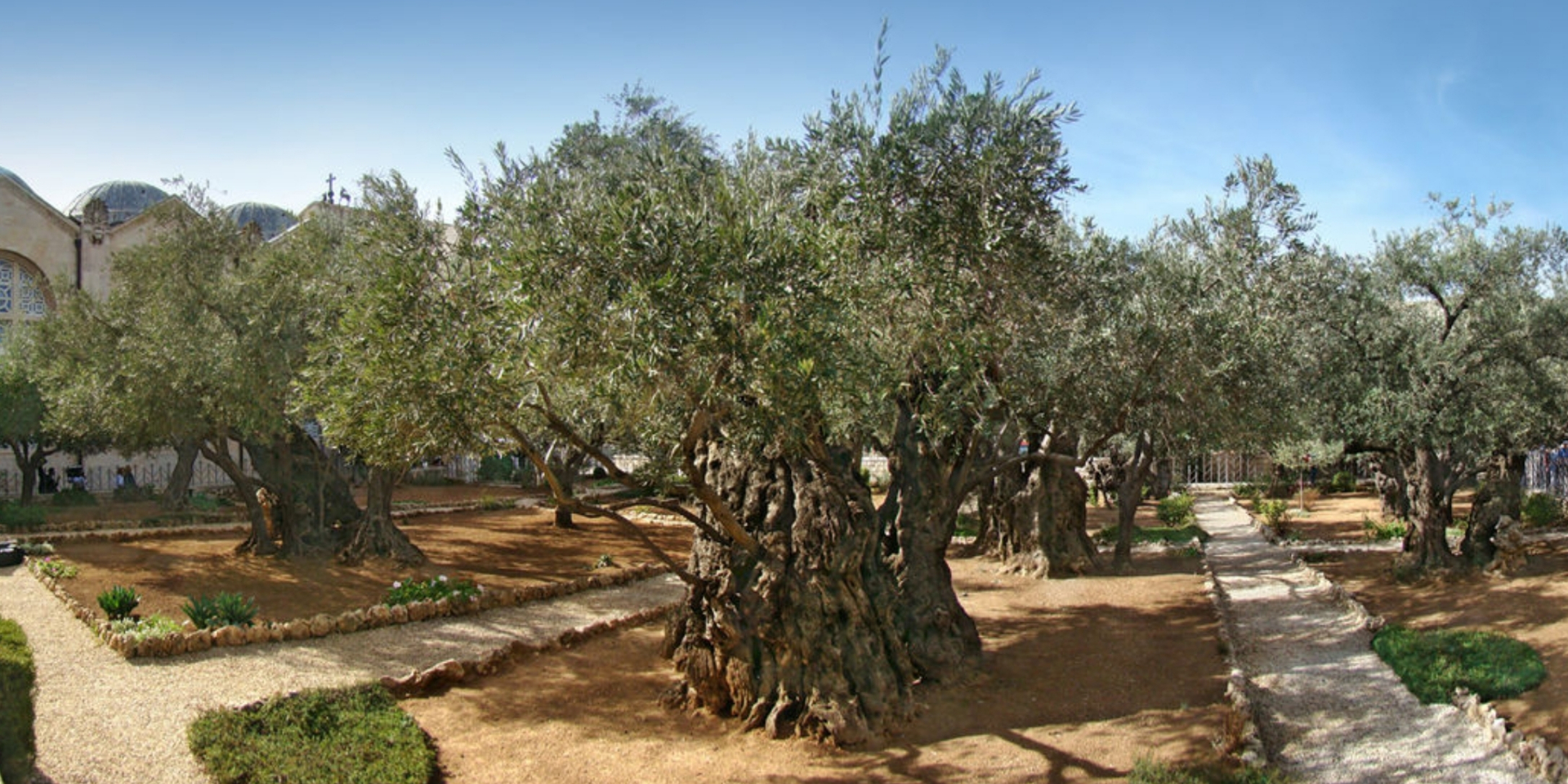 Mark 14:26-42
²⁶After singing a hymn, they went out to the Mount of Olives.
²⁷And Jesus said to them, "You will all fall away, because it is written, 'I will strike down the shepherd, and the sheep shall be scattered.'
²⁸But after I have been raised, I will go ahead of you to Galilee."
²⁹But Peter said to Him, "Even though all may fall away, yet I will not."
³⁰And Jesus said to him, "Truly I say to you, that this very night, before a rooster crows twice, you yourself will deny Me three times."
³¹But Peter kept saying insistently, "Even if I have to die with You, I will not deny You!" And they all were saying the same thing also.
Jesus in Gethsemane
³²They came to a place named Gethsemane; and He said to His disciples, "Sit here until I have prayed."
³³And He took with Him Peter and James and John, and began to be very distressed and troubled.
³⁴And He said to them, "My soul is deeply grieved to the point of death; remain here and keep watch."
³⁵And He went a little beyond them, and fell to the ground and began to pray that if it were possible, the hour might pass Him by.
³⁶And He was saying, "Abba! Father! All things are possible for You; remove this cup from Me; yet not what I will, but what You will."
³⁷And He came and found them sleeping, and said to Peter, "Simon, are you asleep? Could you not keep watch for one hour?
³⁸Keep watching and praying that you may not come into temptation; the spirit is willing, but the flesh is weak."
³⁹Again He went away and prayed, saying the same words.
⁴⁰And again He came and found them sleeping, for their eyes were very heavy; and they did not know what to answer Him.
⁴¹And He came the third time, and said to them, "Are you still sleeping and resting? It is enough; the hour has come; behold, the Son of Man is being betrayed into the hands of sinners.
⁴²Get up, let us be going; behold, the one who betrays Me is at hand!"
Devotional
Jesus' suffering continues to increase.
He applies the prophecy of Zechariah 13:7 to his situation. He foresees that the Father will strike Him with persecution and death. His disciples will show no understanding when He is exposed to this. They will all forsake Him (Mark 14:27).
But it is not all dark. Jesus' downfall is not final. He will rise from the dead and gather his disciples again (Mark 14:28; Matthew 28:5-7, 16).
With bravery, Peter asserts that he will not let his Master fall.
What an overestimation!
A danger that always threatens us. Jesus wants to sober Peter and speaks of his denial. But in vain. All students promise to remain faithful to their Master (Mark 14:29-31).
Then Jesus goes with his disciples to Gethsemane at the foot of the Mount of Olives (Mark 14:32; Gethsemane means: olive press). There the nocturnal struggle with his Father takes place. His loneliness is increased by the fact that the three disciples, who were with Him on the Mount of Transfiguration, and who are also now being specially taken by Him (Mark 14:33; Mark 9:2-8), keep falling asleep.
Jesus knows that there is little time left for Him (Mark 14:42).
He engages in the greatest prayer wrestle of all time (Compare Luke 22:44). He takes on the total burden of man's estrangement from God. No wonder he is in dire need. (Mark 14:33, 34).
Jesus begs his Father that the bitter fate of suffering cannot be spared Him. Yet He wants to conform to His will, as He always wanted to (Mark 14:35, 36; John 4:34).
Jesus returns to the three disciples. He asks them, "Where are you now, in my utmost need?" (Mark 14:37). How weak they are! We are no better by ourselves.
The spirit, that is, man led by God's Spirit, is willing, but the flesh, that is, man as he now exists, even though he speaks bold language like Peter, is weak (Mark 14:38). Victory can only be achieved through God's Spirit (Compare Zechariah 4:6).
We see here that Jesus, our Good Shepherd, persists in his prayer battle and overcomes.
▪︎ Now He is able to meet His enemies and to surrender (Mark 14:41,42).
▪︎ He will soon be able to say: 'It is finished! (John 19:30).
Question
▪︎ What do you learn from Jesus' prayers here?
Prayer suggestion
▪︎ Thank Jesus for his struggle in Gethsemane.
Twitter: @SchoemakerHarry
Website 1: https://devotionals.harryschoemaker.nl
Website 2: http://bijbelplaatjes.nl
About Author