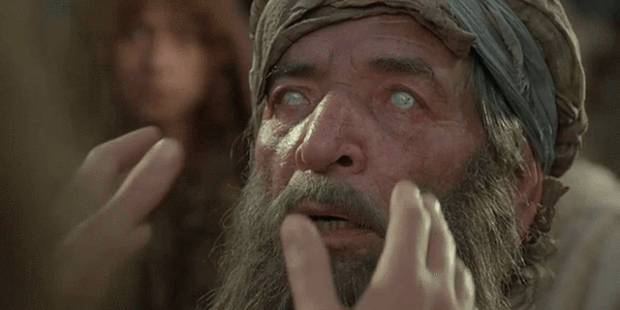 Mark 10:47 AV
And when he heard
that it was Jesus of Nazareth,
he began to cry out, and say,
Jesus, ‭thou‭ Son of David,
have mercy on me.‭
Study
Other translations
And when he heard that it was Jesus of Nazareth, he began to shout, saying, Jesus, Son of David, have pity and mercy on me [now]! [AMP]

And when he heard that it was Jesus of Nazareth, he began to cry out and say, "Jesus, Son of David, have mercy on me!" [ESV]

When he heard that Jesus the Nazarene was passing by, he began to cry out, "Son of David, Jesus! Mercy, have mercy on me!" [MSB]

And when he heard that it was Jesus of Nazareth, he began to cry out, and say, Jesus, thou Son of David, have mercy on me. [KJV]

When he heard that it was Jesus of Nazareth, he began to shout, "Jesus, Son of David, have mercy on me!" [NIV]

When Bartimaeus heard that Jesus from Nazareth was nearby, he began to shout out, "Jesus, Son of David, have mercy on me!" [NLT]

And when he heard that it was Jesus of Nazareth, he began to cry out and say, "Jesus, Son of David, have mercy on me!" [NKJV]
And when he heard that it was Jesus of Nazareth
He heard that it was Jesus of Nazareth "That passed by", as the Persic version reads
Bartimaeus may heard that after he inquired why there was such a multitude of people, why there was so much noise;
Or he may have heard that people frequently mentioned the name of Jesus, and heard that He was coming, or passing by.
He began to cry out
The word used here means crying out aloud, and with great vehemency, and often repeating it.
Jesus, thou son of David
He did not call him Jesus of Nazareth, as people commonly did, but Jesus, the son of David, a title of the Messiah. So his call for help, was at the same time a testimony of what he believed.
Son of David
A naming in which may be observed the title of honour they give Him, which declare their faith in Him.
▪︎ Calling Him Lord, expressing their sense of his deity, dominion, and power;
▪︎ and "Son of David", thereby owning and professing him to be the Messiah, which was a common name of Him, well known among the Jews;
Have mercy on me
He didn't ask for money, as you could expect from a beggar, but for mercy.
The petition he made is, that He would "have mercy on him" and this was made with great vehemency.
His mercy is exactly what we all need.
▪︎ So often we are, because of spiritual blindness, in a poor, helpless, and miserable condition;
▪︎ We too have reasons to "cry" out aloud, that He might hear us, and have compassion on us;
▪︎ We too should be eagerly desirous of having vision, of having spiritual insight,
▪︎ and we too should firmly believe that He is able to give it to us.
Twitter: @SchoemakerHarry
Website 1: https://devotionals.harryschoemaker.nl
Website 2: http://bijbelplaatjes.nl