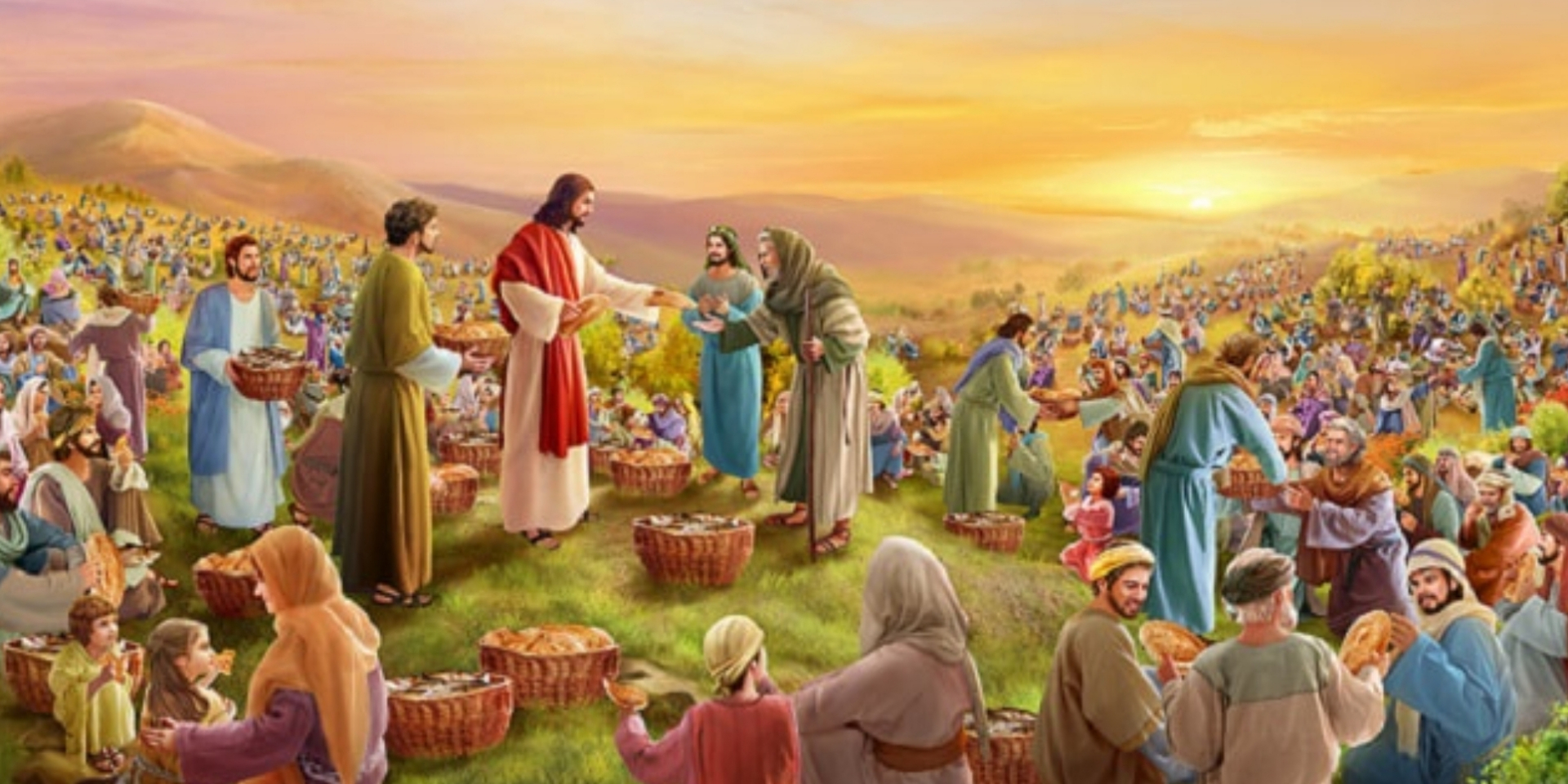 Mark 6:30-44 (NASB)
³⁰The apostles gathered together with Jesus; and they reported to Him all that they had done and taught.
³¹And He said to them, "Come away by yourselves to a secluded place and rest a while." (For there were many people coming and going, and they did not even have time to eat.)
³²They went away in the boat to a secluded place by themselves.
³³The people saw them going, and many recognized them and ran there together on foot from all the cities, and got there ahead of them.
³⁴When Jesus went ashore, He saw a large crowd, and He felt compassion for them because they were like sheep without a shepherd; and He began to teach them many things.
³⁵When it was already quite late, His disciples came to Him and said, "This place is desolate and it is already quite late; ³⁶send them away so that they may go into the surrounding countryside and villages and buy themselves something to eat."
³⁷But He answered them, "You give them something to eat!" And they said to Him, "Shall we go and spend two hundred denarii on bread and give them something to eat?"
³⁸And He said to them, "How many loaves do you have? Go look!" And when they found out, they said, "Five, and two fish."
³⁹And He commanded them all to sit down by groups on the green grass.
⁴⁰They sat down in groups of hundreds and of fifties.
⁴¹And He took the five loaves and the two fish, and looking up toward heaven, He blessed the food and broke the loaves and He kept giving them to the disciples to set before them; and He divided up the two fish among them all.
⁴²They all ate and were satisfied, ⁴³and they picked up twelve full baskets of the broken pieces, and also of the fish.
⁴⁴There were five thousand men who ate the loaves.
Jesus is the real Shepherd.
We may share in His abundance.
We read the Bible in bits and pieces. Usually there is no other way, but actually it is a shame it is like that. Because this sometimes eludes us the coherence. It is significant that immediately after mentioning the meal Herod prepared, we are told of the food that Jesus gave to the people.
Herod, as a king, should actually be a shepherd for his people. But he only welcomes the most important to a very dubious party.
He's not a real shepherd.
In this circumstance Jesus finds the people: as sheep without a shepherd (Mark 6:34; Compare Numbers 27:15-17; 1 Kings 22:17; Ezekiel 34:1-5; Zechariah 10:1,2. scribes and Pharisees also were not true shepherds).
And He has compassion on them.
He always knows what people need.
That is why He also allowed His disciples to rest after the journeys they had made (Mark 6:31).
Apparently, when you are in the service of Jesus, you do not have to run on and on all the time. Only when we want to get rid of people does Jesus stop us (cf. Mark 6:35-37). We are engaged by Him in His care for people.
The crowd with its hunger and Jesus turn out to be a perfect match. What they don't have, He gives. Our lack and His abundance are linked (cf. Mark 6:38,41,42).
Jesus lets people sit in groups (Mark 6:40).
This way they can see each other and realize that they belong together. That's how they sit in the green, tender grass (Mark 6:39). They are like sheep brought by a good shepherd into a lush pasture (Compare Psalm 23; John 10:1-10; 1 Peter 5:4).
This is already a foretaste of the lavish meal that will be wrought for all nations (Isaiah 25:6).
The baskets that are suddenly mentioned (Mark 6:43) may have been carrying baskets. In it the people took their provisions for the day. In the same way they now also have food for the journey (Compare Genesis 45:21).
Prayer suggestion
▪︎ Thank the Lord for being the Good Shepherd for us.
▪︎ Thank the Lord for allowing you to be guided by Him.
× 0 ×
Twitter: @SchoemakerHarry
Internet: http://harryschoemaker.nl
Website: https://devotionals.harryschoemaker.nl
Facebook: Account: Harry Schoemaker
Facebook: Page: https://www.facebook.com/worldwide.ekklesia/
Facebook: Group: https://www.facebook.com/groups/302675914424623/
FaithSocial: Account: Harry Schoemaker
FaithSocial: Group: http://faithsocial.com/group/ekklesia
About Author