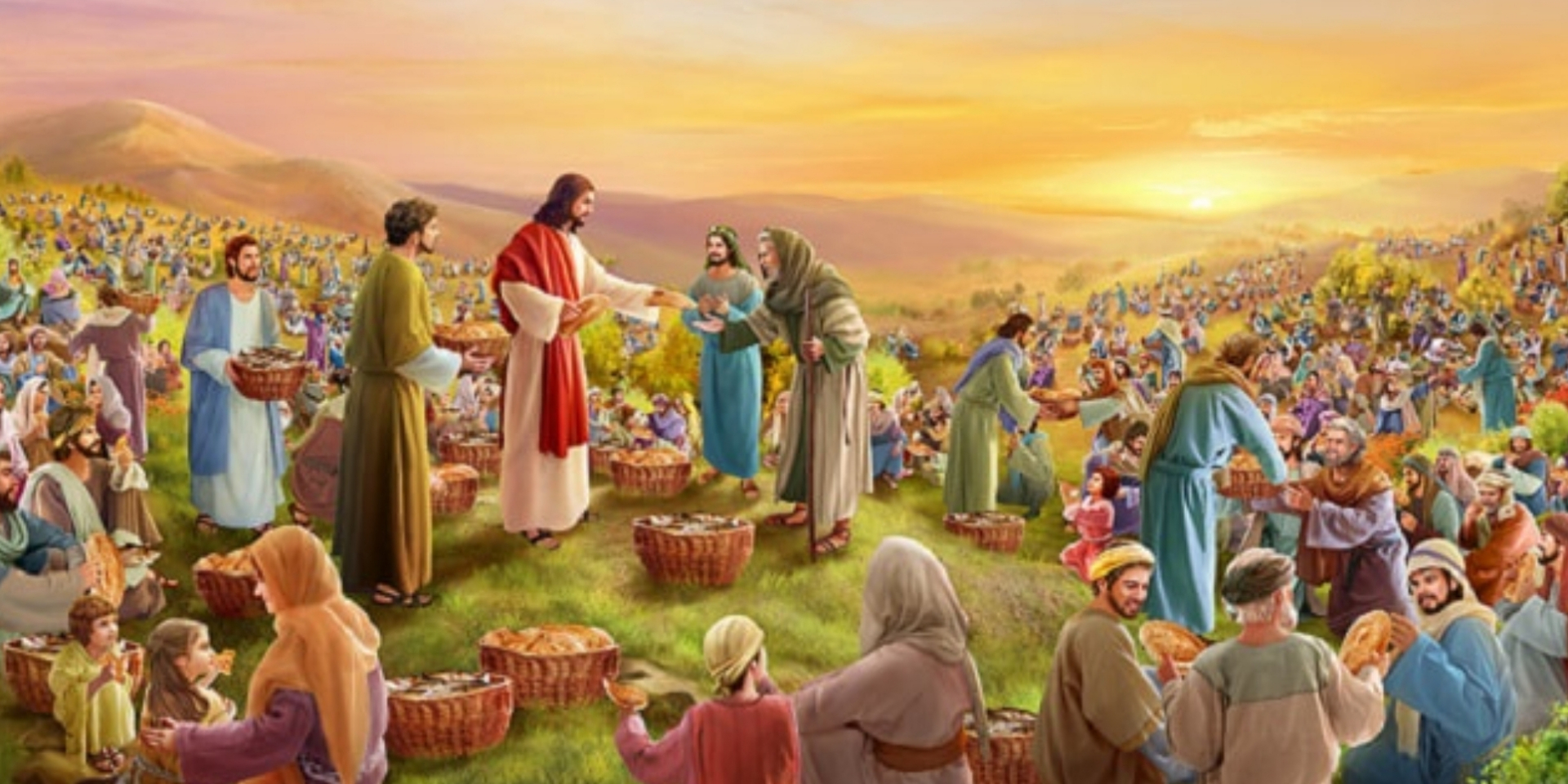 Mark 6:42 (AV)
And they did all eat,
and were filled.‭
The time in which we live is characterized by an economic decline. Some of us may experience this more thanks others. They can no longer spend so much because income has decreased so much, or because prices have risen sharply.
Money became tighter again and again in recent years. Fortunately, most of us still have enough to eat.
If that is also the case with you, then you are richly blessed in contrast to those nations who have little or nothing and whose children are starving.
Also in this passage, which we are now reading, we read of people who were hungry.
Thousands of people! But the Lord Jesus knows how to fill those thousands of mouths.
He multiplies five loaves and two fishes.
Everyone can eat according to their needs. We even read in our text that they were all satisfied.
What is the lesson for us from this?
This one: That there is plenty with the Lord.
There is an abundance of heavenly bread with Him.
All who are hungry can be satisfied by Him.
The hungry need not worry as if there were not enough with Him. There is enough with Him.
In John 6 we read:
John 6:35,48,50-51,53-58 (NASB)
³⁵Jesus said to them, "I am the bread of life; he who comes to Me will not hunger, and he who believes in Me will never thirst.
⁴⁸I am the bread of life.
⁵⁰This is the bread which comes down out of heaven, so that one may eat of it and not die.
⁵¹I am the living bread that came down out of heaven; if anyone eats of this bread, he will live forever; and the bread also which I will give for the life of the world is My flesh."
⁵³So Jesus said to them, "Truly, truly, I say to you, unless you eat the flesh of the Son of Man and drink His blood, you have no life in yourselves.
⁵⁴He who eats My flesh and drinks My blood has eternal life, and I will raise him up on the last day.
⁵⁵For My flesh is true food, and My blood is true drink.
⁵⁶He who eats My flesh and drinks My blood abides in Me, and I in him.
⁵⁷As the living Father sent Me, and I live because of the Father, so he who eats Me, he also will live because of Me.
⁵⁸This is the bread which came down out of heaven; not as the fathers ate and died; he who eats this bread will live forever."
We read today
▪︎ not only that He wants to satisfy our hunger for Him,
▪︎ not only that He is our bread of life,
▪︎ but also that each of us needs Him,
▪︎ and that there is no life outside of Him.
How wonderful that He has demonstrated that there is plenty of that new life for each of us.
May I invite you to take it, and eat it, eat until you are satisfied?
To participate in this, it is necessary that you go to Him, for only those who came to Him could eat of what He offered them.
Therefore, repent, take up your cross, and follow him!
× 0 ×
Twitter: @SchoemakerHarry
Website: https://devotionals.harryschoemaker.nl