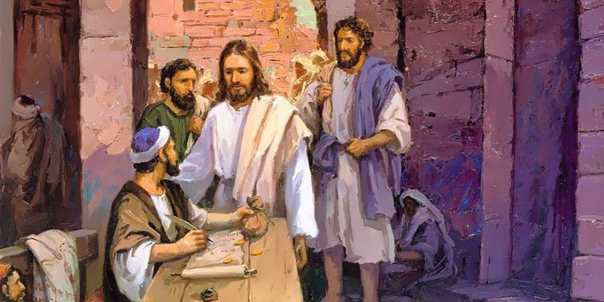 Mark 2:14 (AV)
And as he passed by,
he saw¹ Levi the ‭son‭² of Alphaeus
sitting at the receipt of custom³,
and said unto him, ‭Follow me⁴.‭
And he arose⁵ and followed⁴ him.‭
¹) Saw, observe‭d, and paid attention to
²) Not in all manuscripts
³) He was a tax collector
⁴) to join Him, to accompany Him, to join Him as a disciple, to become or be his disciple‭, to side with his party ‭
⁵) Stood up
From other translations:
And as He was passing by, He saw Levi (Matthew) son of Alphaeus sitting at the tax office, and He said to him, Follow Me! [Be joined to Me as a disciple, side with My party!] And he arose and joined Him as His disciple and sided with His party and accompanied Him. [AMP]

And as he passed by, he saw Levi the son of Alphaeus sitting at the tax booth, and he said to him, "Follow me." And he rose and followed him. [ESV]

Strolling along, he saw Levi, son of Alphaeus, at his work collecting taxes. Jesus said, "Come along with me." He came. [MSB]

And as he passed by, he saw Levi the son of Alphaeus sitting at the receipt of custom, and said unto him, Follow me. And he arose and followed him. [KJV]

As he walked along, he saw Levi son of Alphaeus sitting at the tax collector's booth. "Follow me," Jesus told him, and Levi got up and followed him. [NIV]

As he walked along, he saw Levi son of Alphaeus sitting at his tax-collection booth. "Come, be my disciple," Jesus said to him. So Levi got up and followed him. [NLT]

As He passed by, He saw Levi the son of Alphaeus sitting at the tax office. And He said to him, "Follow Me." So he arose and followed Him. [NKJV]
Now let us see what this verse is telling us.
And as he passed by 
Was passing by.
Jesus was constantly on the alert for opportunities to do good.
He saw Levi the son of Alphæus. 
Matthew Levi; the apostle after this, but now a publican.
Levi (Matthew), son of Alphaeus was an unlikely person to invite to become His disciple as he was a publican who collected toll for Herod Antipas, sitting at the toll-gate on the Great West Road from Damascus to the Mediterranean.
The Jews hated or despised these publicans and classed them with sinners.
Follow Me
The challenge of Jesus was sudden and sharp, but Levi (Matthew) was ready to respond at once.
He arose and followed Him
He had heard of Jesus and quickly decided.
Great decisions are often made on a moment's notice.
Levi's decision is a fine object lesson for business men who put off service to Christ to carry on their business.
I wish it were always this easy to bring people to Jesus.
That I only had to say "Follow Him", and that people would do so…
After teaching for a while (Mark 2:13), Jesus continues to walk along the lake. The one He then sees is 'Levi, the son of Alphaeus', elsewhere he is called 'Matthew' (see Matthew 9:9; Mark 3:18).
This Levi was 'seated at the toll booth,' that is, the place where the toll tax was collected. So Levi was a tax collector (Luke 5:27 speaks of "his toll booth").
Capernaum was one of the border towns of Herod Antipas's territory. It was on the major trade route from Mesopotamia and Syria to Phenicia and Egypt and, in addition to Caesarea and Jericho, owned one of the three main Roman toll offices in the area.
Here tax was collected on imported goods. Because the toll collectors were in the service of the Romans, often acting very greedy, they were by no means loved by the Jews, and were even deeply despised (Mark 2:15,16).
This toll collector Levi is called by the Lord Jesus with a short and powerful command to follow Him, to join as a disciple. (Mark 1:17).
No doubt Levi had already heard of Jesus, but now that He was near, he had not yet joined the crowd, but had continued to do his work.
But after Jesus's "Follow me", however, he gets up and leaves his work, his job and with it his income and his wealthy life (see Luke 5:28) and immediately responds to Jesus' call.
Follow me.
Radically, the word of Christ comes to Levi. It leaves him no room to escape. For far too long he has chosen his own path. He was trapped like a bird in a golden cage. Alienated from God and people, he goes on a road that leads to death.
There on that road to the abyss, Jesus finds him, and calls Levi to life in His service. That demands obedience.
The sheep must come after the Shepherd, where erring ones are taken. Have you heard God's calling in the preaching of His Word?
The Lord seeks you and calls you to life as well.
▪︎ That also means for you: letting go of sin and following Christ.
▪︎ That also means for you: leave the broad road and continue on the narrow road.
▪︎ That also means for you: leaving the worldly luxury behind, and choosing the (eternal) life that Jesus gives you.
We have to learn that time and again on the path of faith.
It costs self-denial and requires us to take up our cross and bear it. But … The Good Shepherd is leading us on that road.
The Lord calls very different people to Himself to follow Him.
▪︎ He not only calls the elderly, but also the young.
▪︎ He not only calls people who are seen in society, but also people who are not seen.
Levi was one of those people that others sneered at.
He was in a despicable profession in the eyes of Jews.
He was a publican. That appeal excluded him from all religious ceremonies in Israel. A tax collector was an excommunicated one. Nevertheless, Jesus also calls the tax collectors and in our case: Levi.
It is amazing that at the invitation of Jesus this man leaves his profession and his house behind. And he forsakes a good profitable position to follow Jesus. This shows the great change that has taken place in him.
The outward calling became an inward calling with Levi.
He had to let go of everything. But isn't that also the case with all who are called by the Word and the Spirit? What they were attached to, they must let go. They learn to follow the Lord on passable and impassable roads. They have to let go of a lot, but get the Christ in return.
And he got up and followed him.
It must have been an extremely tense moment: Jesus, not turning His head away from a hated tax collector, but going to speak to him. Short and sweet: "Follow Me!"
What will Levi do? He obeys.
And as if it were not enough, Jesus and his disciples will soon be sitting at the table with Levi … with many other publicans and sinners. What a company!
Not exactly the kind of people the Pharisees and scribes keep up with. In their eyes, Jesus is throwing away his good name.
You don't do something like that, do you?
You may recognize it.
Don't we also have our preferences when it comes to who we associate with?
Should the 'sick' figure it out for themselves?
Or have we come to know ourselves as a sinner …
Sinners whom Jesus, miraculously, does not cast away?
I don't know what it is based on, but it is believed that Levi, the tax collector, was a man who did not interfere with anything. Maybe you are such a type of person too.
Others flocked to hear and see Jesus of Nazareth, but not Levi. He continued to work. One thing was important in his life, and that was money. Money was His number one priority. The mammon of the money was all over him. Let others waste their time, not Levi. Make money in the tollbooth, in a not always fair way, that was his life.
Unhappy is He who has sold heart and soul to it. These people are tied, and no one can untie them. Only the Lord can do that, through His word of power.
Follow me! Is the simple command.
Would Levi go with the Lord?
Or would the cords that tied him to the money keep him from doing so?
However, he gets up.
In these words lies a world of thoughts.
Not only does someone stand here, but here's a person who breaks free from the bonds with which he was tied to the money.
Death must give way to life.
He does not free himself, but the Lord draws with his almighty power of eternal love. And Levi gets up. There is a willing choice here. He goes after Jesus, and He continues in the footsteps of the Shepherd.
And he arose and followed him.
Levi obeys. Mark spends a few words on it, as if to say: that it is to be expected.
Anyone so called can agree. The Word has power because the Holy Spirit binds it to our hearts. Then we get up and let go of what binds us.
The Lord makes you willing and ready to forsake sin. Where He speaks, bonds are loosened. You may still be struggling to get rid of sin.
That is only possible by listening to the Christ.
Anyone who wants to redeem himself in his own strength will notice that he is working himself more firmly into sin. Only the Lord really sets the prisoners free! Everything else may give you a good feeling, but in the end it is all no more than surrogate.
Would you not pray for that grace?
He broke the bonds of sin and death in His death and resurrection!
× 0 ×
Twitter: @SchoemakerHarry
Internet: http://harryschoemaker.nl
Website: https://devotionals.harryschoemaker.nl
Facebook: https://www.facebook.com/worldwide.ekklesia/
Facebook Group: https://www.facebook.com/groups/302675914424623/
About Author