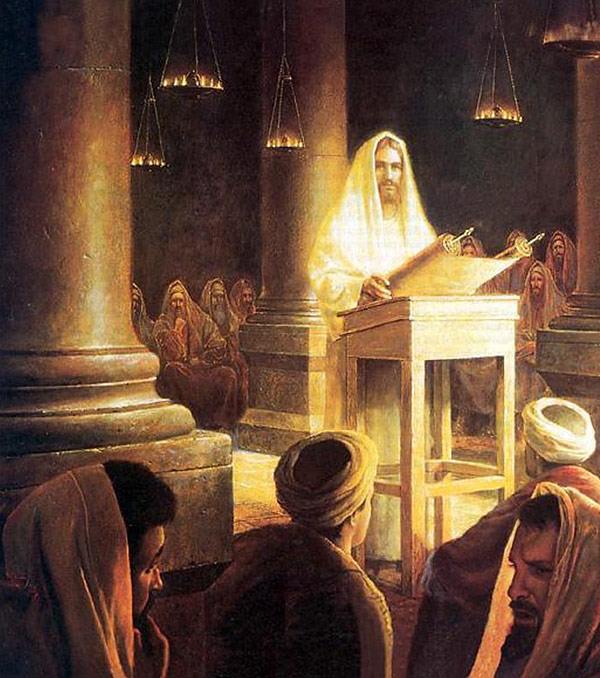 Mark 1:21-28
²¹They went into Capernaum; and immediately on the Sabbath He entered the synagogue and began to teach.
²²They were amazed at His teaching; for He was teaching them as one having authority, and not as the scribes.
²³Just then there was a man in their synagogue with an unclean spirit; and he cried out, ²⁴saying, "What business do we have with each other, Jesus of Nazareth? Have You come to destroy us? I know who You are-the Holy One of God!"
²⁵And Jesus rebuked him, saying, "Be quiet, and come out of him!"
²⁶Throwing him into convulsions, the unclean spirit cried out with a loud voice and came out of him.
²⁷They were all amazed, so that they debated among themselves, saying, "What is this? A new teaching with authority! He commands even the unclean spirits, and they obey Him."
²⁸Immediately the news about Him spread everywhere into all the surrounding district of Galilee.
× 0 ×
If we do as we should, we are weekly going to church, not because it is just a habit, but because we want to meet our Lord, and learn.
That is how Jesus started his work. Preaching where the people were together to hear God's Word (Mark 1:21). He taught them, that is, He brought them knowledge and insight regarding the truth of, and about God.
But there was something very special about his speech that amazed the hearers and was not used to them at all. A power radiated from it and they understood: this is from God. This is real. This man has, authority from God (Mark 1:22, See also Mark 1:27).
With God, word and deed are one.
Jesus proclaims the omnipotence of his Father's love. And immediately puts his word into practice to a man dominated by a demon, a helper of the devil.
This devilish spirit had taken possession of this man and brought it to uncleanness and evil. The evil spirit became very distressed when Jesus was speaking and could not keep silent and used the voice of the demoniac to resist Him (Mark 1:23,24).
The evil spirit well knows who he is dealing with (Compare James 2:19) and that he must lose it. That now becomes clear to all: he cannot compete with Jesus' words of power. The evil spirit must leave (Mark 1:25,26).
In this way, the power of God's Kingdom is revealed and many are attracted to Him (Mark 1:28).
Also in our modern age there are many, including youth, who are under the spell of addiction, or under the power of evil, or of occult powers, unclean spirits.
What an encouragement to know that Jesus is stronger! (Compare 1 John 4: 4).
He wants and can deliver people (John 8:36). You only have to appeal to Him, although the devil can show his mean power for a last time (cf. Mark 1:26).
Do you believe that Jesus' word has authority and power?
And are you eager to bless others with His words and pray for them to be delivered?
× 0 ×
Twitter: @SchoemakerHarry
Internet: http://harryschoemaker.nl
Website: https://devotionals.harryschoemaker.nl
Facebook: https://www.facebook.com/worldwide.ekklesia/
Facebook Group: https://www.facebook.com/groups/302675914424623/
About Author