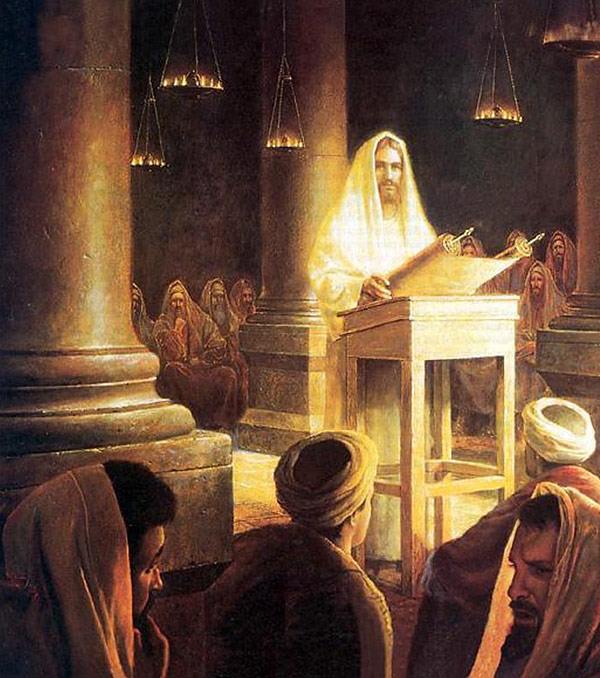 Luke 4:22 (AV)
And all bare him witness¹,
and wondered² at the gracious³ words⁴
which proceeded⁵ out of his mouth.
And they said,
Is not this Joseph's⁶ son?
¹) To bear witness, that is: to affirm that one has seen or heard or experienced something, or that he knows it because it was taught by divine revelation or inspiration‭; to give (not to keep back) testimony‭; to utter honourable testimony, give a good report‭.
²) Marvelled.
‭³) That which affords joy, pleasure, delight, sweetness, charm, loveliness.
⁴) That what is declared.
⁵) Which came out of His mouth.
⁶) The husband of Mary.
Other translations:
And all spoke well of Him and marveled at the words of grace that came forth from His mouth; and they said, Is not this Joseph 's Son? [AMP]

And all spoke well of him and marveled at the gracious words that were coming from his mouth. And they said, "Is not this Joseph's son?" [ESV]

All who were there, watching and listening, were surprised at how well he spoke. But they also said, "Isn't this Joseph's son, the one we've known since he was a youngster?" [MSB]

And all bare him witness, and wondered at the gracious words which proceeded out of his mouth. And they said, Is not this Joseph's son? [KJV]

All spoke well of him and were amazed at the gracious words that came from his lips. "Isn't this Joseph's son?" they asked. [NIV]

All who were there spoke well of him and were amazed by the gracious words that fell from his lips. "How can this be?" they asked. "Isn't this Joseph's son?" [NLT]

So all bore witness to Him, and marveled at the gracious words which proceeded out of His mouth. And they said, "Is this not Joseph's son?" [NKJV]
Some further information:
All
‭‭Spurgeon's clarification on the meaning of "all."‭
‭Now, beloved, when you hear anyone laughing or jeering at a limited atonement, you may tell him this. General atonement is like a great wide bridge with only half an arch; it does not go across the stream: it only professes to go half way; it does not secure the salvation of anyone.
Now, I had rather put my foot upon a bridge as narrow as Hungerford, which went all the way across, than on a bridge that was as wide as the world, if it did not go all the way across the stream.
I am told it is my duty to say that all men have been redeemed, and I am told that there is a Scriptural warrant for it—"Who gave himself a ransom for all, to be testified in due time." Now, that looks like a very, very great argument indeed on the other side of the question. For instance, look here.
▪︎ "The whole world is gone after him."
Did all the world go after Christ?
▪︎ "Then all Judea went and were baptized by him in Jordan."
Was all Judea, or all Jerusalem baptized in Jordan?
▪︎ "You are of God, little children," and "the whole world lies in the wicked one."
Does "the whole world" there mean everyone?
If so, how was it, then, that there were some who were "of God?" The words "world" and "all" are used in some seven or eight senses in Scripture; and it is very rarely that "all" means all people, taken individually.
The words are generally used to signify that Christ has redeemed some of all sorts, some Jews, some Gentiles, some rich, some poor, and has not restricted his redemption to either Jew or Gentile.‭
‭‭C. H. Spurgeon Sermon No. 181, New Park Pulpit, Vol. 4, p. 135,136.
Bare witness, and wondered.
As he proceeded with his discourse.
Bare him witness,
Approved those things which he spoke with common consent and voice: for this word "witness" signifies in this place (and many others) "to allow and approve a thing with open confession".
Wondered
Present at this meeting of the scriptures were not only the learned, but also the common people: and besides that, their mother tongue was used, for how else could the people have wondered?
Paul appointed the same manner for doing things in the Church at Corinth; ( 1 Corinthians 14:1-40 ).
Gracious words
Words full of the mighty power of God, which appeared in all His doings, and as well allured men marvellously unto Him; (see Psalms 45:2 ), "grace is poured into thy lips".
"The words of grace" are referring to both:
▪︎ The richness of His matter
▪︎ and the sweetness of His manner
Is not this Joseph's son?
They were astonished that Joseph's son, without rabbinical education, could speak with such power and knowledge. They seemed incapable of conceiving.
Joseph's son
Familiarity causes Christ to be condemned and therefore he often goes to strangers.
Joseph
The name Joseph means "let him add"‭
‭
The name was given to:
‭‭1) the patriarch, the eleventh son of Jacob‭
‭‭2) the son of Jonan or Jonam, one of the ancestors of Christ, ‭(Luke 3:30‭)
‭‭3) the son of Judah [or Judas; better Joda] another ancestor of Jesus, (Luke 3:26‭)
‭‭4) the son of Mattathias, another ancestor of Christ, ‭(Luke 3:24‭)
‭‭5) the husband of Mary, the mother of Jesus‭
‭‭6) a half–brother of Jesus ‭(Matthew 13:55‭)
‭‭7) Joseph of Arimathaea, a member of the Sanhedrin, who favoured Jesus. ‭(Matthew 27:57,59; Mark 15:43,45‭)
‭‭8) Joseph surnamed Barnabas ‭(Acts 4:36‭)
‭‭9) Joseph called Barsabas and surnamed Justus, ‭(Acts 1:23‭)
In general:
Yes, we have seen that they all bore him witness that he spoke admirably well, and to the purpose.
They all commended him, and wondered at the gracious words that proceeded out of his mouth; and yet, as appears by what follows, they did not believe in him.
Note, that it is very well possible that those who are admirers of good ministers, and that those who love good preaching, may themselves not be true Christians.
What was it that they admired?
They admired the gracious words which proceedeth out of his mouth. The words of grace; good words, and spoken in a winning melting way.
Christ's words are words of grace, for, grace is being poured into his lips (Ps. 45:2 ), and words of grace poured from them.
And these words of grace are to be wondered at; Christ's name was Wonderful, and in nothing was he more so than in his grace, in the words of his grace, and the power that went along with those words.
We may well wonder that he should speak such words of grace to such graceless wretches as we are. 
What was it that increased their wonder?
And what was the consideration of his origin?  
They said, Is not this Joseph's son? And therefore they considered His extraction mean and his education mean.
Some saw in this suggestion perhaps a reason to admire his gracious words all the more, concluding that He must have been taught of God, for they knew no one else who had taught him;
While others perhaps with this consideration corrected their wonder at his gracious words, and concluded there could be nothing really admirable in them, because he was just a Son of Joseph. Can any thing great, or worthy our regard, come from one so mean?
Now let us reflect on this:
The Lord Jesus has also come to the place where He grew up, to Nazareth, to preach the redeeming word of the Gospel there too.
Nothing human was strange to him, except for sin. And that is why we can so well understand that He longed to speak the word of grace also in the place where He grew up, and among the people whom He had known.
Personally, I can imagine that very well, because how much I would like to spread these messages in my own language, among my own people as well, but unfortunately I have to experience again and again that people do not want to read them.
But Jesus speaks a pleasant word there, for from the scripture read, he may declare that the Spirit of the Lord is upon him to preach good tidings, to heal the brokenhearted, to bring deliverance to the captives, and to restore sight to the blind.
This preaching has not failed to impress.
Unfortunately, not the impression we would hope for, not an impression that brought salvation. People were amazed because of His pleasant words, but they did not believe.
How did that happen?
Well, because they didn't recognize themselves as broken, prisoners, and blind.
And as we read before: Those who are healthy do not need the physician.
Also today you are coming again into contact with the pleasant and saving Gospel.
But what does it do to you?
What does it bring you?
Just wonder?
× 0 ×
Twitter: @SchoemakerHarry
Website: https://devotionals.harryschoemaker.nl