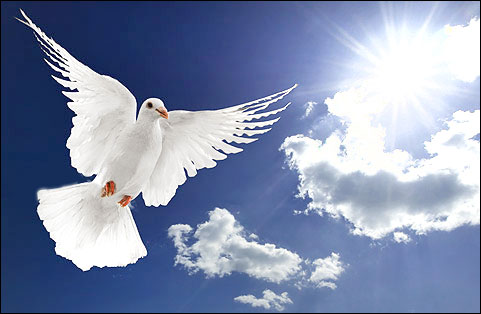 Joel 2:32
And it will come about that whoever calls
on the name of the Lord will be delivered;
For on Mount Zion and in Jerusalem
There will be those who escape,
As the Lord has said,
Even among the survivors whom the Lord calls.
Calling on the Name of the Lord
We have been living in the last days since Pentecost, but these last days, are also the present days of God's grace. Not just for Israel, but for this whole world. Pentecost is a missionary celebration. In the days of Joel, God's work was still limited to Israel and Judah, now it is all around the earth.
And yet that worldwide broadening of God's work is already reflected in this prophecy: Whoever calls on the name of the Lord will be saved. This is widening A missionary celebration visible on Pentecost.
You may lay down your guilty past before the Lord.
Right now, while we see it going to the last day.
Whoever calls on the name of the Lord will be saved.
For there will be an escape on Mount Zion and in Jerusalem.
Zion, that is God's home. Who will climb up the mountain of the Lord? That is only possible because Jesus climbed that other mountain: and He, bearing His cross, went to Golgotha. Only with Him, there is an escape from God's judgment.
Whoever calls on God's Name in faith will be saved.
God's richest offering. But it is also His last offer!
It is good to hear the well-known chapters from the Bible, which we read on fixed days, on another day. Maybe then we'll listen in a slightly different way.
You may be thinking of very different things now than of Pentecost.
Then Joel will call you back to the Lord today.
In the invocation of the Lord lies salvation. Whoever calls to God from the depth of his sinful and guilty life, may experience that He is a hearer of prayers.
He is the Savior. In Christ Jesus.
Find the Lord in a quiet place. Call on Him. And you will be saved by Him.
Peter quotes these words at Pentecost. He leaves out what follows about Mount Zion, etc. The Spirit transcends the boundaries of the covenant and effects this invocation on Gentiles as well.
Whoever calls on the name of the Lord will be saved.
Does it need to be said even more clearly?
In the midst of judgment, grace is proclaimed; in wrath the Lord thinks of His mercy.
We may now insist: Hold on to what He promised and call on Him, if you have never learned to look for your life outside of yourself, in Jesus Christ.
There is conservation! For His Name's sake!
And this is on Mount Zion and in Jerusalem.
What do these words mean?
Although the ultimate fulfillment of these words may still be hidden from us, we have to pay attention to that salvation that is still offered. Where? There, where the Lord called out His Name and revealed Himself.
For Israel. For the nations. For you and for me.
× 0 ×
Internet: http://harryschoemaker.nl
Website: https://devotionals.harryschoemaker.nl
Facebook: https://www.facebook.com/worldwide.ekklesia/
About Author