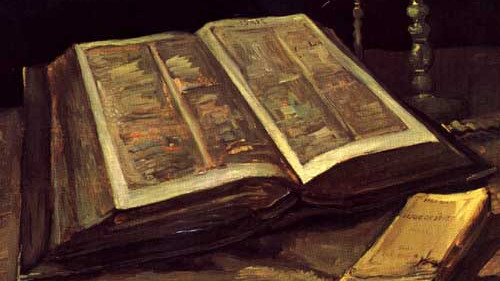 190522
What are the books of the Old Testament about?
– The Bible book Genesis (origin, beginning) tells about the origin of the earth, about the first people, about God's covenant with one man, Abraham, and about the twelve founding fathers from whom the people of Israel originated.
– In Exodus it tells us how God liberates the people of Israel from slavery in Egypt. You can also read how God comes to live with people in a tent specially designed by God for this purpose.
– The book of Leviticus is about the sacrifices, laws, and rules of life that God gives to his people, and the duties of the tribe of Levi who will serve God in the sanctuary.
– In Numbers the tribes of the people are counted and told about the experiences on their way to the "promised land."
– In Deuteronomy ( = second law) the rules of life and laws that God gave to Moses for the people of Israel are repeated.
– The Bible book Joshua tells us how the people of Israel little by little conquer the "promised land".
– In Judges you can read how the people again and again become unfaithful to God. Whenever the people become unfaithful, God allows them to be attacked by enemies. When people start calling God for help, He gives them every time a "judge" to save them from their enemies. A judge was a kind of 'freedom fighter' called by God.
– The Bible book Ruth is a personal story about the young woman Ruth, who lived in the time of the Judges. Ruth is one of the ancestors of Jesus.
– The two Bible books Samuel tell us how the prophet Samuel leads the land, and how the people ask God for a king.
– The two books Kings tell about the kings that Israel had. After the first three kings (Saul, David, and Solomon), the kingdom breaks up into two kingdoms. Each empire gets its own king. There is often war between the two kingdoms.
In the end, it doesn't end well with both kingdoms. That is because most kings don't care about God. That is why God first lets enemies conquer the northern kingdom of Israel and later the southern kingdom of Judah.
The capital Jerusalem and the temple of God are completely destroyed
About Author