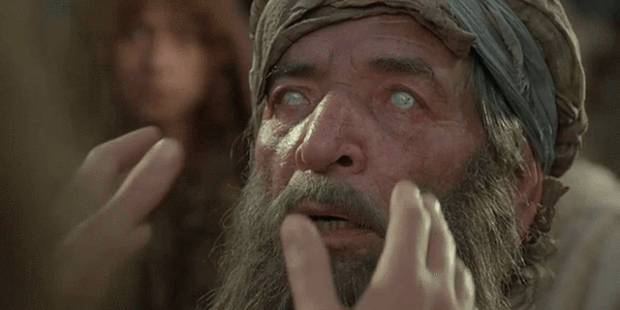 Matthew 9:27-34
Miracles of Healing
²⁷As Jesus went on from there, two blind men followed Him, crying out, "Have mercy on us, Son of David!"
²⁸When He entered the house, the blind men came up to Him, and Jesus said to them, "Do you believe that I am able to do this?" They said to Him, "Yes, Lord." ²⁹Then He touched their eyes, saying, "It shall be done to you according to your faith." ³⁰And their eyes were opened. And Jesus sternly warned them: "See that no one knows about this!" ³¹But they went out and spread the news about Him throughout all that land.
³²As they were going out, a mute, demon-possessed man was brought to Him. ³³After the demon was cast out, the mute man spoke; and the crowds were amazed, and were saying, "Nothing like this has ever been seen in Israel." ³⁴But the Pharisees were saying, "He casts out the demons by the ruler of the demons."
Devotional
Jesus attracted so much attention through His work that He became a much discussed figure throughout the area (Matthew 9:26). No wonder the sick and infirm try their very best to get to Him, even when He retires into the house.
He rejects no one. Also not the two blind people. The only thing He may ask and expect of them before He helps them is that they sincerely believe in Him (Matthew 9:28,29).
They call Him 'Son of David' (Matthew 9:27), a name of the promised and expected Messiah (From Isaiah 11:1 (Jesse is David's father)).
Again, Jesus forbids any outward and vociferous propaganda (Matthew 9:30; Cf. Matthew 8:4). A prohibition that is not followed (Matthew 9:31).
Why this prohibition of Jesus?
Would it not be because He knew that this miracle would not be understood by the religious leaders of the people, that it would anger them and cause premature persecution against Him?
Furthermore, Jesus does not want any sensation. He doesn't want miracle faith.
In Matthew 9:32 and 33, Jesus liberates and heals a deaf-mute possessed person (Compare eg Matthew 9:28-30, 33; Isaiah 29:18; 35:5; 42:7). The evil spirits – henchmen of the devil – often make a person sick.
Liberation then means healing at the same time. So a double miracle.
This healing provokes two reactions.
On the one hand, there is the surprise of the multitude. They see in it a surprising new element in their folk history (Matthew 9:33).
On the other hand, there is the slander of the Pharisees (Matthew 9:34). They too cannot ignore this miracle. However, they do not want to recognize that this illiterate man has God's power, because they are very jealous. They have developed an explanatory theory for it.
The only supernatural power that resembles it is that of God's great adversary, the devil, the leader of the fallen angels.
They suggest that Jesus is influenced by him and is enabled to perform all kinds of miracles (cf. Matthew 12:22-32). That's one of the ways to hide from Jesus.
With all his piety and Bible knowledge (the Pharisees knew the Old Testament like the back of their hands!) a person can still resist God. That is also a real danger today!
Question
Who is Jesus to you, even in our broken reality? (Compare 1 Corinthians 1:30; Colossians 2:15.)
Prayer Suggestion
Thank God for Jesus, the Messiah.
Read more of these messages at: https://devotionals.harryschoemaker.nl
Download your Bible pictures from: http://bijbelplaatjes.nl
Follow me on Twitter: @schoemakerharry
Email: devotionals@harryschoemaker.nl