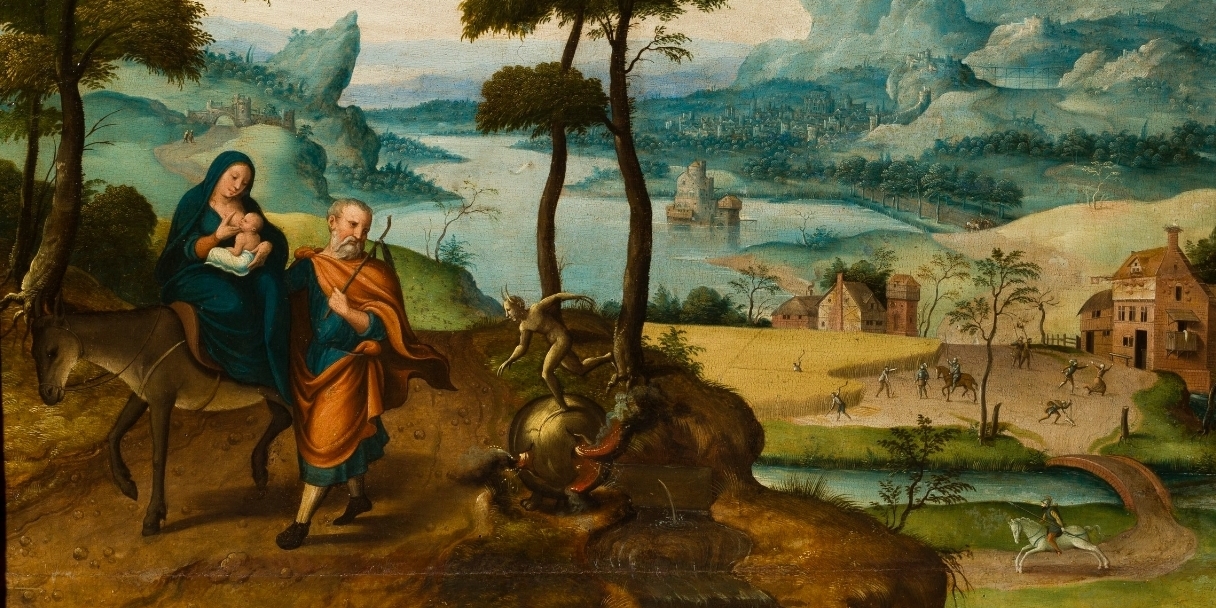 Matthew 2:13-23 NASB
The flight to Egypt
¹³Now when they had gone, behold, an angel of the Lord appeared to Joseph in a dream and said, "Get up! Take the Child and His mother and flee to Egypt, and remain there until I tell you; for Herod is going to search for the Child to destroy Him."
¹⁴So Joseph got up and took the Child and His mother while it was still night, and left for Egypt. ¹⁵He remained there until the death of Herod. This was to fulfill what had been spoken by the Lord through the prophet: "Out of Egypt I called My Son."
Herod Slaughters Babies
¹⁶Then when Herod saw that he had been tricked by the magi, he became very enraged, and sent and slew all the male children who were in Bethlehem and all its vicinity, from two years old and under, according to the time which he had determined from the magi.
¹⁷Then what had been spoken through Jeremiah the prophet was fulfilled: ¹⁸ "A voice was heard in Ramah, Weeping and great mourning, Rachel weeping for her children; And she refused to be comforted, Because they were no more."
¹⁹But when Herod died, behold, an angel of the Lord appeared in a dream to Joseph in Egypt, and said, ²⁰"Get up, take the Child and His mother, and go into the land of Israel; for those who sought the Child's life are dead."
To Nazareth
²¹So Joseph got up, took the Child and His mother, and came into the land of Israel.
²²But when he heard that Archelaus was reigning over Judea in place of his father Herod, he was afraid to go there. Then after being warned by God in a dream, he left for the regions of Galilee, ²³and came and lived in a city called Nazareth. This was to fulfill what was spoken through the prophets: "He shall be called a Nazarene."
Devotional
The Father watches over the child Jesus and fulfills His plan.
The King on Whom the future of the world depends has come defenseless as a baby in a hostile world.
How could God have conceived it?
How could it go well this way?
The life of Jesus on earth has been restless from the beginning.
The devil has done all he can to get Him out of the way.
Here satan, in the person of Herod the Great, makes an attack on Jesus. But he is fighting a losing battle. God protects His child. The devil resists, but cannot prevent God's plan of salvation from being carried out, because of his opposition (See Genesis 3:15).
Herod the Great's response to the King's birth is a terrible terror. He's not taking any chances. In a ruthless attempt to get rid of the new King, he has all the little boys in Bethlehem murdered.
In the pitiful crying of the inconsolable mothers of Bethlehem, Matthew has heard back the deep lament of the prophet Jeremiah (Matthew 2:17,18; Jeremiah 31:15). Even the most brutal opposition has not surprised God.
The LORD watched over Jesus.
Up to three times in this short piece we read about direct instructions from God to Joseph (Matthew 2:13,19,20,22).
First He let him go with the child and his mother to Egypt (Matthew 2:14). The way of life of Jesus fits from the beginning in the great plan of God.
He begins as an exile in the land of tribulation (cf. Genesis 15:13, Exodus 3:9). Matthew records in astonishment: Thus is fulfilled what God said in the Old Testament, the prophet Hosea spoke of it (Matthew 2:15; Hosea 11:1).
Even Archelaus, the cruel successor of Herod the Great, cannot thwart the plans of the LORD for Jesus. Because he is the successor of Herod in Judea, Joseph does not return to Bethlehem, but settles in Nazareth in Galilee.
It seems to be based on human considerations, but it is the great government of God, who has in His hands the way of life of the as yet defenseless King (Matthew 2:22,23).
The LORD guides everything. Also today!
Question
▪︎ What does it mean to our faith that Old Testament texts have been fulfilled?
Prayer Suggestion
▪︎ Ask the Lord to keep watch over His plans; also in your life, and also now.
Twitter: @SchoemakerHarry
Website 1: https://devotionals.harryschoemaker.nl
Website 2: http://bijbelplaatjes.nl
You are welcome to share your comment in the comment section.