Obedience to God's Will 1a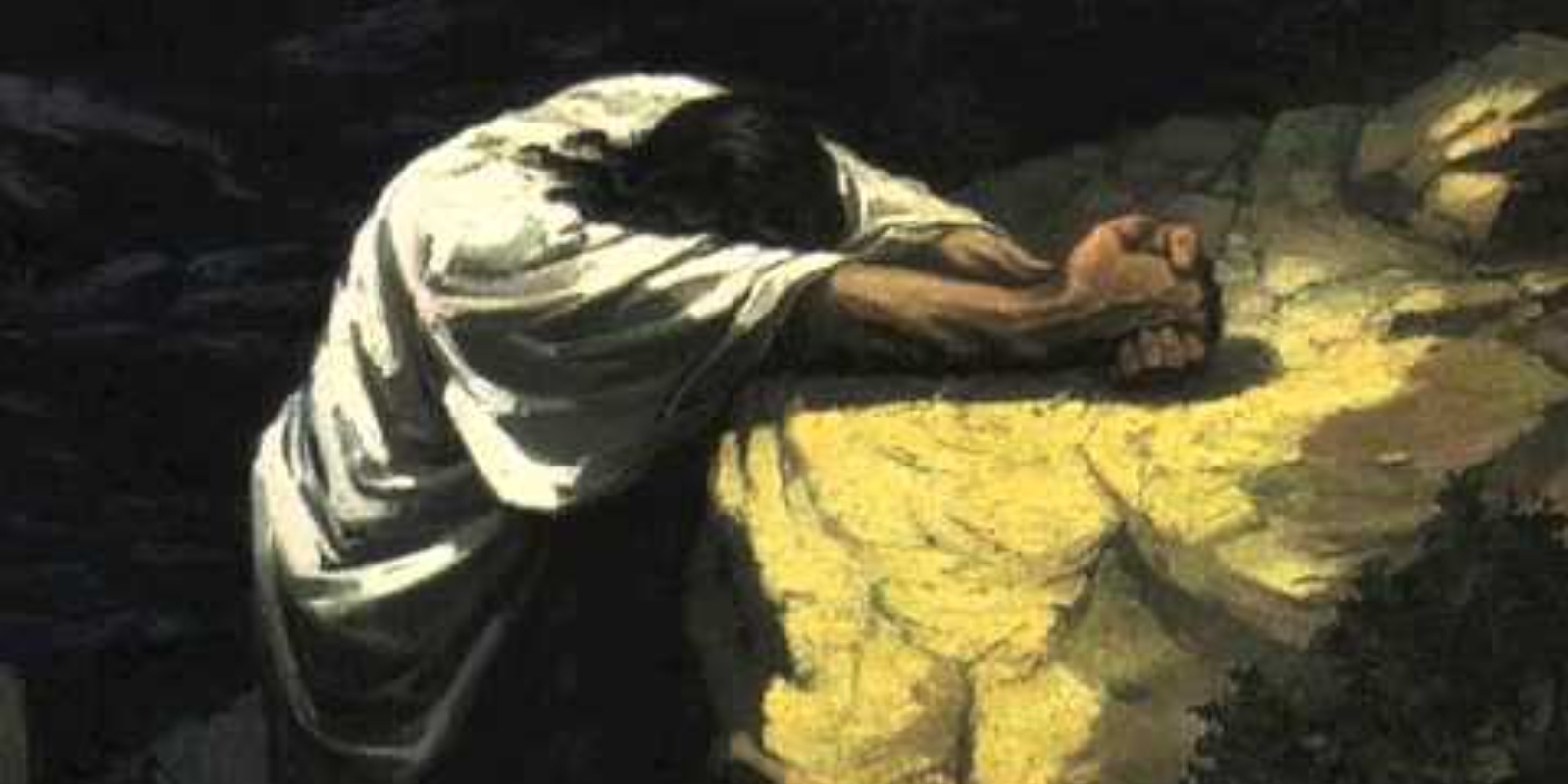 Matthew 26:39 AV
And he went a little further,
and fell on his face,
and prayed, saying, ‭
O my Father, if it be possible,
let this cup pass from me:
nevertheless not as I will,
but as thou ‭[wilt]‭.‭
Study
Other translations
New International Version
Going a little farther, he fell with his face to the ground and prayed, "My Father, if it is possible, may this cup be taken from me. Yet not as I will, but as you will."
New Living Translation
He went on a little farther and bowed with his face to the ground, praying, "My Father! If it is possible, let this cup of suffering be taken away from me. Yet I want your will to be done, not mine."
Cross References
Isaiah 50:5
The Lord GOD has opened My ears, and I have not been rebellious, nor have I turned back.
Isaiah 53:12
Therefore I will allot Him a portion with the great, and He will divide the spoils with the strong, because He has poured out His life unto death, and He was numbered with the transgressors. Yet He bore the sin of many and made intercession for the transgressors.
Matthew 20:22
"You do not know what you are asking," Jesus replied. "Can you drink the cup I am going to drink?" "We can," the brothers answered.
Matthew 26:42
A second time He went away and prayed, "My Father, if this cup cannot pass unless I drink it, may Your will be done."
Mark 14:36
"Abba, Father," He said, "all things are possible for You. Take this cup from Me. Yet not what I will, but what You will."
Luke 22:41
And He withdrew about a stone's throw beyond them, where He knelt down and prayed,
Luke 22:42
"Father, if You are willing, take this cup from Me. Yet not My will, but Yours be done."
John 5:19
So Jesus replied, "Truly, truly, I tell you, the Son can do nothing by Himself, unless He sees the Father doing it. For whatever the Father does, the Son also does.
John 6:38
For I have come down from heaven, not to do My own will, but to do the will of Him who sent Me.
John 18:11
"Put your sword back in its sheath!" Jesus said to Peter. "Shall I not drink the cup the Father has given Me?"
Philippians 2:8
And being found in appearance as a man, He humbled Himself and became obedient to death–even death on a cross.
Hebrews 5:7
During the days of Jesus' earthly life, He offered up prayers and petitions with loud cries and tears to the One who could save Him from death, and He was heard because of His reverence.
× 0 ×
He went a little farther.
St. Luke adds in Luke 22:41 that it was "about a stone's cast."
The eight were left, we may believe, near the entrance of the garden; the three, "apart by themselves," further on; the Master, still further, by Himself.
The three heard the words that came from His lips as with a half-consciousness which revived afterwards in memory, but they were then numbed and stupefied with weariness and sorrow.
It was now near the dawning of the day, and their eyes had not closed in sleep for many hours.
If it be possible, let this cup pass from me.
We shrink instinctively from analysing or commenting on the utterances of that hour of agony. But, happily, words are given us where our own words fail. Thus it was, we are told, that "He learned obedience by the things that He suffered" (Hebrews 5:8).
He had spoken before to the very disciples who were now near Him of the "cup" which His Father had given Him to drink (Matthew 20:23). Now the "cup" is brought to His lips, and His human will at once shrinks from it and accepts it.
The prayer which He had taught His disciples to use, "Lead us not into temptation," is now His prayer, but it is subordinated to that other prayer, which is higher even than it, "Thy will be done."
In the prayer "If it be possible" we recognise, as in Mark 13:32, the natural, necessary limits of our Lord's humanity.
In one sense "with God all things are possible," but even the Divine Omnipotence works through self-imposed laws, in the spiritual as in the natural world, and there also ends cannot be obtained except through their appointed and therefore necessary means.
God might have redeemed mankind, men have rashly said, without the sufferings and death of the Son of Man, but the higher laws of the Divine Government made such a course, if we may venture so to speak, morally impossible.
x O x
He went a little further.
 Deeper into the wood, beneath the gloomy shadow of the olive trees, yet so as not to feel absolutely alone.
St. Luke names the distance, "He was withdrawn from them about a stone's cast." By some clerical error the genuine reading, προελθὼν, "having gone forward," has been altered in most of the best manuscripts into προσελθὼν, "having approached."
There can be no doubt that this latter reading is erroneous; and it is well, as occasion bids, to call attention to possible mistakes in the most important uncials.
 Fell on his face, and prayed.
 He prostrated himself on the ground in utter abasement and desolation, yet in submission withal.
In this terrible crisis there is no resource but prayer. The shadow of death enveloped him, wave and storm rolled over his soul; yet out of the deep he called unto the Lord.
In the Epistle to the Hebrews some affecting details are added:
Hebrews 5:7-8
⁷In the days of His flesh, He offered up both prayers and supplications with loud crying and tears to the One able to save Him from death, and He was heard because of His piety.
⁸Although He was a Son, He learned obedience from the things which He suffered.
 O my Father (Πάτερ μου).
The personal pronoun is omitted in some manuscripts, but it has high authority.
Only on this occasion and in his great prayer (John 17) does Christ so address the Father, his human nature in the depth of suffering retaining still the sense of this paternity.
St. Mark has, "Abba, Father," as if he spake for the Hebrew race and the Gentile world.
 If it be possible
 i.e. If there is any other way in which man may be saved and thou be glorified; if there is any other mode of redemption. It is the cry of humanity, yet conditioned by perfect submission.
 Let this cup pass from me.
 The "cup" is the bitter agony of his Passion and death, with all their grievous accompaniments and it contained all the wrath of God on the sins of mankind.
All heroism and manly endurance in the face of pain and death Christ exhibited to the full; but the elements of suffering in his case were different, and fraught with exquisite torture (see Matthew 26:28).
Such was the anguish that it would have then separated soul and body – of such rigour that "his sweat became as it were great drops of blood falling down upon the ground" – had not an angel appeared from heaven to strengthen and support the fainting human life (Luke 22:43,44).
 Nevertheless not as I will, but as thou wilt.
 In this prayer are shown the two wills of Christ, the human and Divine.
The natural shrinking of the human soul from ignominy and torture is overborne by entire submission to and compliance with the Divine purpose.
So it is said that the Captain of our salvation was made perfect through sufferings, learned obedience by the things which he suffered (Hebrews 2:10; Hebrews 5:8) By this passage the Monophysite and Monothelite heresies are clearly refuted, the two natures and two wills of Christ being plainly displayed.
The three apostles saw only some part of their Master's intense agony, and heard only some broken utterances of his supplication; hence there are some slight variations in the synoptical accounts.
St. Mark doubtless derived his account immediately from St Peter; the other synoptists from some other source.
Prayer suggestion
▪︎ Ask your heavenly Father, to make your life obedient to His will.
▪︎ Because your love for Him, tell Him that you desire to fulfill the purposes to which He has called you
Twitter: @SchoemakerHarry
Website 1: https://devotionals.harryschoemaker.nl
Website 2: http://bijbelplaatjes.nl