Seek God's Kingdom first!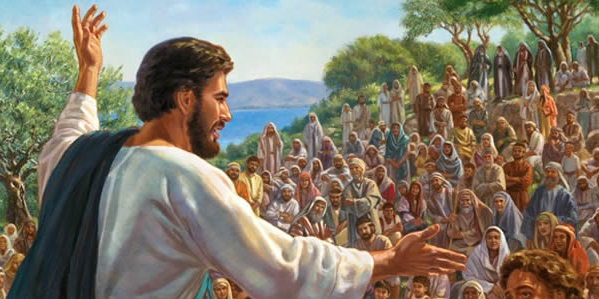 Matthew 13:44‭-‬52 NASB2020
Hidden treasure
⁴⁴The kingdom of heaven is like a treasure hidden in the field, which a man found and hid again; and from joy over it he goes and sells everything that he has, and buys that field.
A costly pearl
⁴⁵Again, the kingdom of heaven is like a merchant seeking fine pearls, ⁴⁶and upon finding one pearl of great value, he went and sold everything that he had and bought it.

A dragnet
⁴⁷Again, the kingdom of heaven is like a dragnet that was cast into the sea and gathered fish of every kind; ⁴⁸and when it was filled, they pulled it up on the beach; and they sat down and gathered the good fish into containers, but the bad they threw away.
⁴⁹So it will be at the end of the age: the angels will come forth and remove the wicked from among the righteous, ⁵⁰and they will throw them into the furnace of fire; in that place there will be weeping and gnashing of teeth.
⁵¹Have you understood all these things?" They said to Him, "Yes." ⁵²And Jesus said to them, "Therefore every scribe who has become a disciple of the kingdom of heaven is like a head of a household, who brings out of his treasure new things and old."
Devotional
Again Jesus tells parables.
But the first two parables–that of the treasure in the field and of the precious pearl–have a somewhat different apex from the aforementioned.
In this the Kingdom of God is presented as something that transcends everything else in life and for which one who has discovered it will give everything.
First, Jesus taught us about the mystery of God's government.
Now He says: But if anyone discovers God's Kingship, unexpectedly (Matthew 13:44) or after a long search (Matthew 13:45,46), he has only one desire: to possess that Kingdom – he wants to believe in Jesus wholeheartedly, Follow Him as a Guide.
The treasure was found by surprise, the pearl on a deliberate quest. However different the road to the Kingdom of God may be, everyone wants Kingdom to always take the first and all-decisive place in life.
Jesus tells Nicodemus that one who is not born again cannot see the Kingdom of God (John 3:3).
But once we have entered it, what do we do?
Then we only want to live for Jesus, don't we? Isn't he our wealth and not our property? Where our treasure is, there our heart will be also (Matthew 6:21).
The third parable that Jesus tells here – that of the dragnet – bears a strong resemblance to the parable of the tares among the wheat. Fishing with the trawl is a picture of the proclamation of the Gospel. That net contains good fish, but also inedible, yes even all kinds of rubbish.
But anyone who works with such a net knows: soon, on the bank the good fish will be saved, and the rest thrown (Matthew 13:47,48).
As for the people, soon there will be a clear division between those who belong to God and those who do not belong to Him (Matthew 13:49,50; See also Daniel 12:2, John 5:28,29 and 2 Corinthians 5:10).
He who has become a disciple of Jesus has not only come to know the new things of the Good News, which were not previously taught in Israel. He now also sees the things of the old covenant in the right light (Matthew 13:51,52).
Let's talk to others about everything we discover!
Question
What does Matthew 6:31-33 mean to you?
Prayer Suggestion
Pray that God will help you break free from what is holding you away from Him.
□ ■ □
Read more of these messages at: https://devotionals.harryschoemaker.nl
Download your Bible pictures from: http://bijbelplaatjes.nl
Email: devotionals@harryschoemaker.nl
Twitter: @SchoemakerHarry