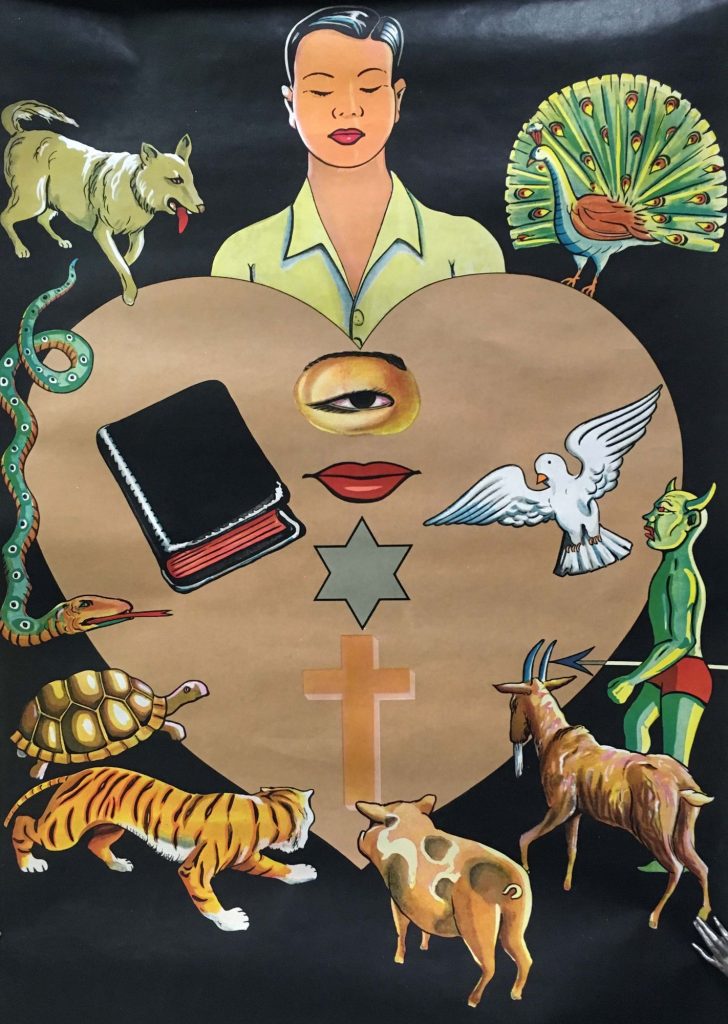 PICTURE SEVEN – THE BACKSLIDING HEART
A very solemn message is portrayed here, where we have the heart of a man who has trusted in the Lord Jesus, and who has been cleansed from sin, but who is living a life inconsistent with his salvation.
Notice how the animals are all trying to regain admission into the heart they had been forced to leave.
Each time such a person gives way to sin, the evil one will take an opportunity to attack and spoil his life.
His eye shows he is not on the alert, and though not blind, yet he has lost his keen sight.
His mouth once opened in witness for his Saviour is now closed and silent.
The Bible which he previously treasured and loved to read has been neglected and has become a closed book, while the Holy Spirit, grieved at such a condition, is restless.
The man has lost his clear conception of the full meaning of the Cross so that it is blurred and indistinct to him.
Can we not see in this a warning to all Christians?
While we can never lose our salvation and the eternal life given to us (John 10:27-29) yet we can all too easily yield to the temptations which may come with increased force against us.
It is not easy to live as a Christian, in fact it is impossible to do so in our own strength. We are assured "no temptation has overtaken you that is not common to man. God is faithful, and He will not let you be tempted beyond strength, but with the temptation will also provide the way of escape that you may be able to endure it." (1 Corinthians 10:13)
Our Lord has told us that without Him we can do nothing. (John 15:5) but we know also that we can do all things through Christ who strengtheas us (Philippians 4:18).
Listen to the pleadings of the Saviour. "I have this against you, that you have abandoned the love you had at first. Remember then from what you have fallen … repent!" (Revelation 2:4-5)
"I knowyour works: you are neither cold nor hot. Would that you were …!
So because you are lukewarm I will spew you out of My mouth." (Revelation 3:15)
▪︎ Awake, and repent, Oh Christian, reopen your Bible and feed yourself on this living Word!
▪︎ Do not grieve the Holy Spirit by your lack of perception, your compromise, your failure to be separate from the world.
▪︎ Open your mouth in confession of Him and testify for Him.
Above all, let the Cross of Christ again take central place in your whole life – that Cross by which you are crucified to the world, the Cross on which you have died to sin, and which, if you are to be Christ's disciple, you must daily take up and bear. (Galatians 6:14; Luke 14:27)
Twitter: @SchoemakerHarry
Website 1: https://devotionals.harryschoemaker.nl
Website 2: http://bijbelplaatjes.nl
About Author