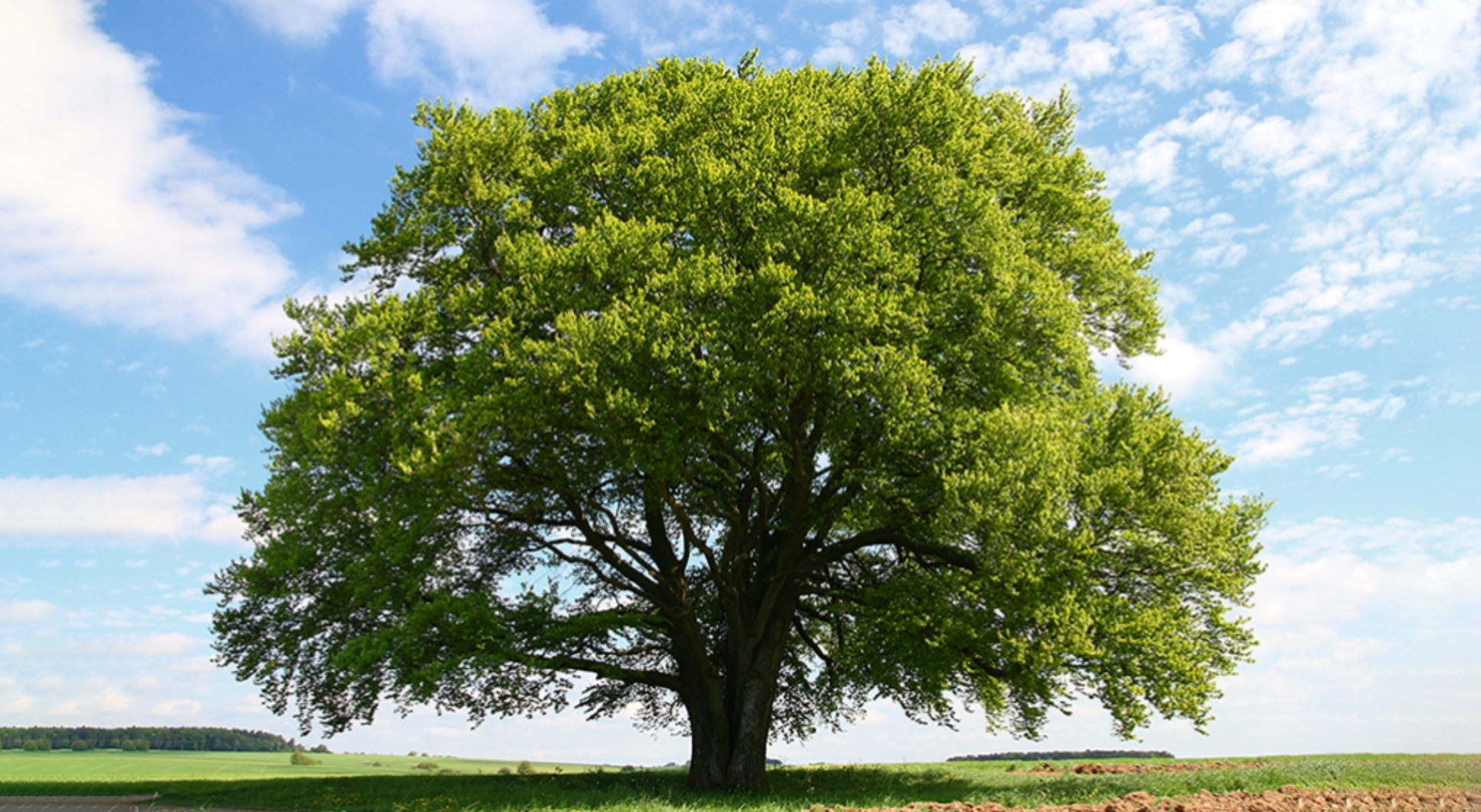 Luke 13:18‭-‬21 KJV
Then said He, Unto what is the kingdom of God like?
and whereunto shall I resemble it?
It is like a grain of mustard seed,
which a man took, and cast into his garden;
and it grew, and waxed a great tree;
and the fowls of the air lodged in the branches of it.

And again he said,
Whereunto shall I liken the kingdom of God?
It is like leaven,
which a woman took and hid in three measures of meal,
till the whole was leavened.
(until it was completely leavened.)
In other words:
Then Jesus said to them, 'I will tell you a story about the kingdom of God and what it is like. It is like a very small seed of the plant called mustard. A man took this seed and he planted it in his garden. The seed grew and it became a tree. It was so big that birds came and made their homes among its branches.'
Jesus went on to say, 'Here is another example of what the kingdom of God is like. It is like how yeast works. A woman took some of it and she mixed it into three large bowls of flour. Then the yeast went through all the flour so that it grew big.'
What can you see of Christ in your life?
If we look at ourselves honestly, we can be quite disappointed.
We try to live the way God asks of us, but so often it breaks on our inability and unwillingness.
Will it ever work with us? And with the church?
Week after week, people are busy making the church warm and enthusiastic, but what will become of it? For example, there are times when you can become so discouraged because there is so little to see of the changes you want so badly.
Will nothing come from it?
Day after day, I spend hours preparing the daily devotionals. I would love to see people really follow their Savior; I would love to see more and more people hear the gospel, but the reality is that more and more people have no more, than a crappy formal service, and the number of people who can still read the devotionals, due to all kinds of opposition, is from nearly 11 million turned down to only a handful. It is discouraging.
Will nothing come from it?
The answer to this question depends on the perspective from which we look at the world around us, the church or ourselves.
If we only look at it, from our own point of view, we see no more than just a small, tiny mustard seed or a tiny bit of leaven.
But if we look at it from God's perspective, we already see something of that large mature tree, or of the baked bread.
We can sometimes keep staring us blind at the small things we see. A small mustard seed, a little bit of yeast, but that is only the beginning!
▪︎ A small beginning of change in our own life.
▪︎ A small start of love and missionary work in the church.
▪︎ A small beginning of justice in the world, for every creature of God.
But still… the seed has been sown, the leaven has been kneaded through the flour, and in our lives, in the church and in the world, we already see something of how it will be. Just wait until we see the full result soon! It will be astonishing to see what will come out of the work for God's Kingdom.
Just think about what we recently discussed.
In that synagogue it started with a single woman, who could eventually walk upright again.
▪︎ It started with one woman who was delivered by Jesus.
▪︎ It ended with a complete synagogue rejoicing in the mighty work done by Jesus.
Over the centuries it became visible what Jesus meant by this parable.
The Gospel of God's Kingdom has spread across the world and countless people have found salvation. Until today there has been a mighty growth of God's Kingdom.
Those who only look from their own human point of view will see little of the growth of this Kingdom. But who looks from the perspective of God sees many beautiful things. For this is how it works in his Kingdom: He builds his Kingdom through the labor of weak people.
So come on people, don't look at the few people who are allowed to see these messages from Facebook these days. Be grateful for the millions where the seed also has been planted! Of course I too would rather write for millions than for a few, but if we just let those seeds get into the ground, then God will give the growth. For God's Kingdom grows unnoticed until it encompasses everything.
Prayer suggestions:
▪︎ Ask God that His Kingdom may break through powerfully in the world.
▪︎ Ask God that, despite what people plan, His will will be done.
▪︎ Ask God that many will find and turn to Him.
~~~~~
PS. Make it your habit to check out my website, as without any good reason my pages or account on Facebook may be gone again.
Bookmark the devotionals or add it to your homescreen. https://devotionals.harryschoemaker.nl
Internet: http://harryschoemaker.nl
~
ENGLISH
Facebook: https://www.facebook.com/worldwide.ekklesia/
Twitter: @SchoemakerHarry
Website: https://devotionals.harryschoemaker.nl
~
NEDERLANDS
(Ligt, doordat het niet meer gelezen werd, momenteel even stil)
Facebook: https//www.facebook.com/wereldwijde.ekklesia/
Twitter: Twitter: @SchoemakerHarry
Website: https://overdenkingen.harryschoemaker.nl
About Author