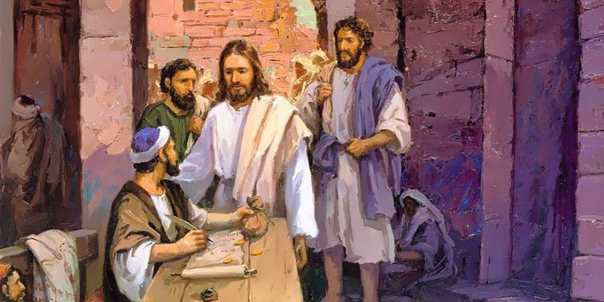 Matthew 9:9-13 NASB
Matthew Called
⁹As Jesus went on from there, He saw a man called Matthew, sitting in the tax collector's booth; and He said to him, "Follow Me!" And he got up and followed Him.
¹⁰Then it happened that as Jesus was reclining at the table in the house, behold, many tax collectors and sinners came and were dining with Jesus and His disciples.
¹¹When the Pharisees saw this, they said to His disciples, "Why is your Teacher eating with the tax collectors and sinners?"
¹²But when Jesus heard this, He said, "It is not those who are healthy who need a physician, but those who are sick. ¹³But go and learn what this means: 'I desire compassion, and not sacrifice,' for I did not come to call the righteous, but sinners."
Anecdote
I'm a doctor
Today we pass on another story from one of the sermons of a Kenyan pastor.
Once upon a time there was a company in which people introduced themselves to each other.
Everyone mentioned their name and the profession they practiced.
One introduced himself as a doctor, another introduced himself as a professor and another as a lawyer.
There was also a pastor in the company. He had been wondering for a while how he would present himself in this high society. When it was his turn, he stood up and said, "I'm a doctor and I specialize in human souls."
After the meeting had lasted for some time, there was a break.
Some of those present went to the pastor and told them that they were happy with his presence, because they needed pastoral help for their families.
They had big problems that they couldn't solve on their own.
The pastor was happy that they were willing to come forward with their concerns and problems. The Lord Jesus had already said that: "Those who are healthy have no need of a physician, but those who are sick."
Devotional
Here we find a piece of Matthew's autobiography (In Mark 2:14 his name is Levi). Yet he does not put himself in the spotlight. No, all attention is focused on Jesus.
Because Jesus and Matthew were locals, Matthew probably knew who Jesus was and what He stood for. One look and one word are enough for the tax collector.
'Follow me,' Jesus says. Matthew wants nothing more than that, and leaves his toll booth for what it is (cf. Matthew 16:24-26). He is so pleased with Jesus' invitation that he prepares a meal.
It is a festive meal that he offers Jesus and his disciples during his promotion to discipleship. Many other tax collectors and sinners also notice who Jesus is and eat with them.
Here's someone who cares about them!
Because of the open character of the houses, Jesus' dining with tax collectors and sinners does not go unnoticed.
The Pharisees express their indignation against His disciples: 'You have a beautiful Master. He is breaking God's law. Watch. He eats with tax collectors and sinners.
By 'sinners' we should not understand people in general, but those who, according to the Pharisees, did not take the Mosaic law so closely.
Murderers, robbers, deceivers, adulterers, heathens, and especially tax collectors were included in that category. You did not associate with such people, you avoided them (cf. Luke 7:36-39).
Jesus comes to the aid of his disciples and says to the accusers: 'There is nothing wrong with your diagnosis, but your attitude is. The people I eat with are sick to death and urgently need help. From Me and from you.
Read it in Hosea: "I want mercy and not sacrifices" (Hosea 6:6).
Just as in the time of Hosea, you, the so-called righteous, have no eye and love for those who have strayed from God.'
These are all people today who were once baptized or dedicated and now care no more about God or his commandment.
Do we write them off? No, we must show them mercy, in imitation of Jesus!
Question
What do you like, and what is difficult for you, about following Jesus?
Prayer Suggestion
Thank the Lord that He has called you too.
Ask God to give you love for those who have gone astray.
Read more of these messages at: https://devotionals.harryschoemaker.nl
Download your Bible pictures from: http://bijbelplaatjes.nl
Follow me on Twitter: @schoemakerharry
Email: devotionals@harryschoemaker.nl