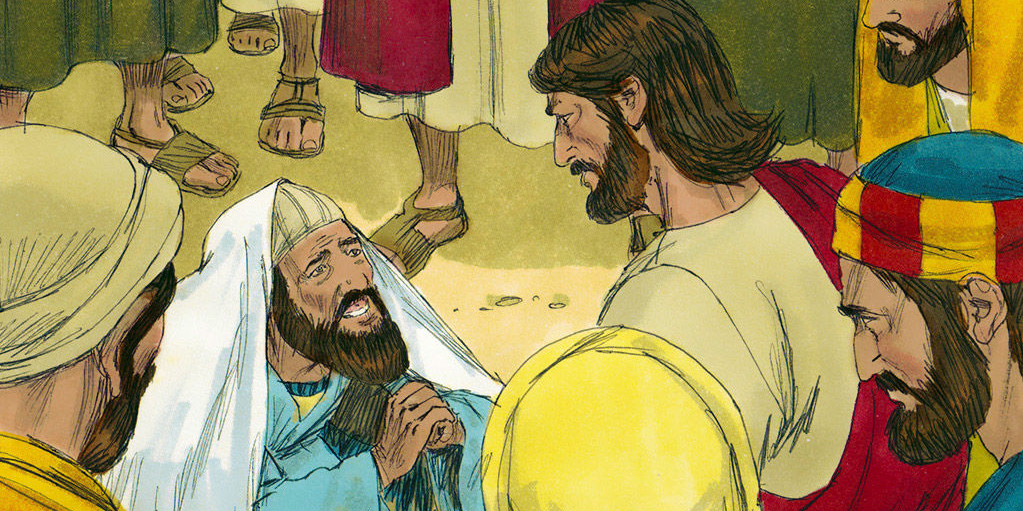 Mark 5:24
And ‭Jesus‭ went with him;
and much people¹ followed² him,
and thronged³ him
¹) A crowd‭; a casual collection of people‭; a multitude of men who have flocked together
²) To follow one who precedes, accompany him‭
³) To press together, press on all sides ‭
Other translations:
And Jesus went with him; and a great crowd kept following Him and pressed Him from all sides [so as almost to suffocate Him]. [AMP]

And he went with him.And a great crowd followed him and thronged about him. [ESV]

Jesus went with him, the whole crowd tagging along, pushing and jostling him. [MSB]

And Jesus went with him; and much people followed him, and thronged him. [KJV]

So Jesus went with him. [NIV]

Jesus went with him, and the crowd thronged behind. [NLT]

So Jesus went with him, and a great multitude followed Him and thronged Him. [NKJV]
Some further information:
Thronged him
The word in Luke 8:42 is stronger: "choked," "stifled Him."
Now let us reflect on this
Jairus is at the right place with his request.
Jesus will not disappoint him in his need.
It is told us very soberly in the text. "He went with him."
But behind those few words hides the great mercy of the Lord Jesus.
I imagine that Jesus bent down to Jairus, lying on the ground, and laid His hand on his shoulder, and then said to him, "I will come." Then he raised him up and they went together toward the ruler's house.
Yes, Jesus is the merciful High Priest.
• He is available at all times. Never does anyone inconveniently come to take refuge in Him.
• He has an open ear for the pleas of those in need.
• He is also willing to participate in our suffering.
This great mercy of the Lord Jesus is all the more noticeable when we notice that Jairus expressed his faith in his request, but that his faith was not yet completely pure.
He wanted Jesus to lay hands on his child.
Does he think this was really necessary?
Something still needs to be corrected here. But that will also be fine.
In any case, it does not get in the way of Jesus.
After all, he goes with Jairus.
× 0 ×
Twitter: @SchoemakerHarry
Internet: http://harryschoemaker.nl
Website: https://devotionals.harryschoemaker.nl
Facebook Page: https://www.facebook.com/worldwide.ekklesia/
Facebook Group: https://www.facebook.com/groups/302675914424623/