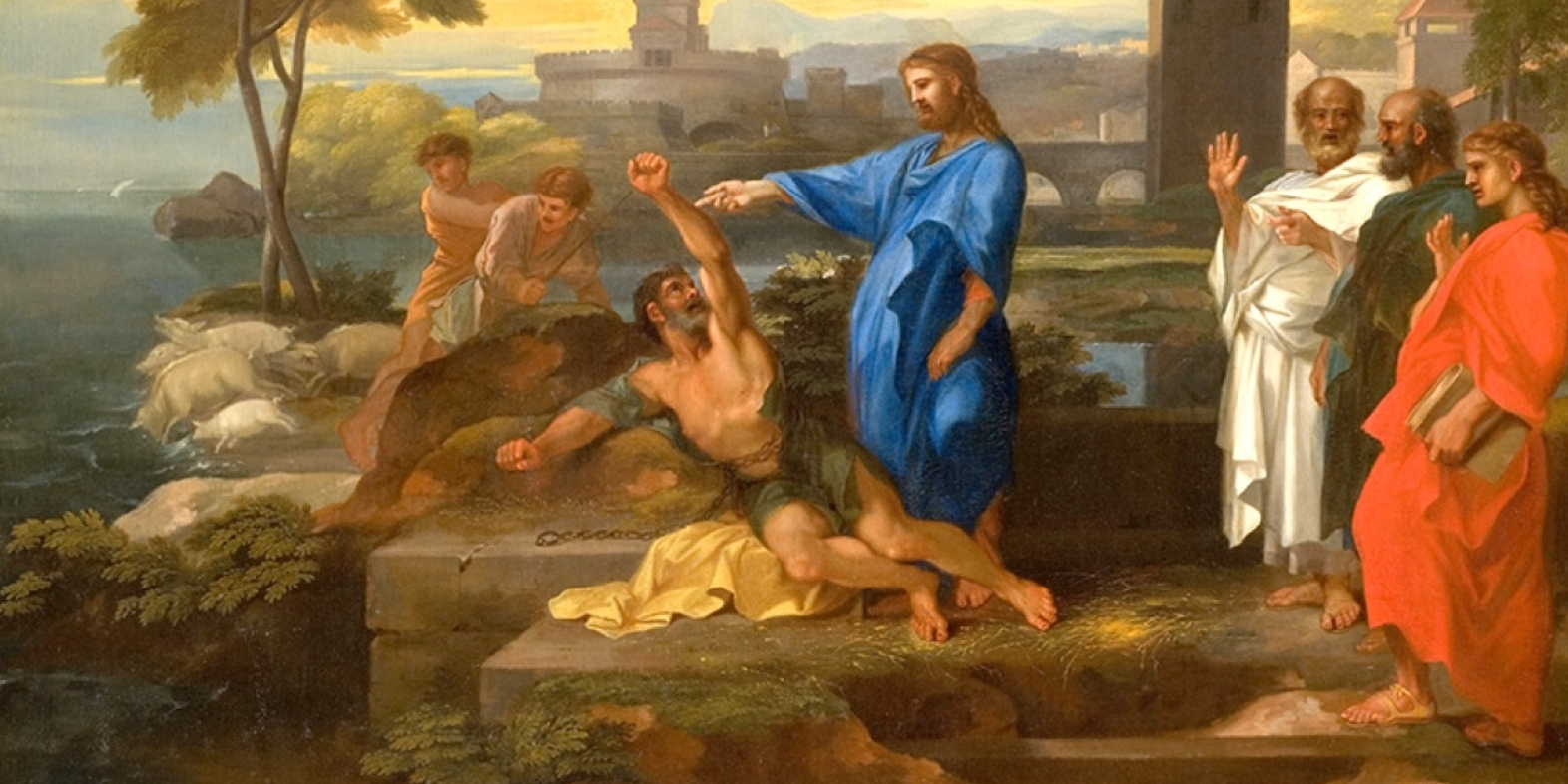 Mark 5:1-20
¹They came to the other side of the sea, into the country of the Gerasenes.
²When He got out of the boat, immediately a man from the tombs with an unclean spirit met Him, ³and he had his dwelling among the tombs. And no one was able to bind him anymore, even with a chain; ⁴because he had often been bound with shackles and chains, and the chains had been torn apart by him and the shackles broken in pieces, and no one was strong enough to subdue him.
⁵Constantly, night and day, he was screaming among the tombs and in the mountains, and gashing himself with stones.
⁶Seeing Jesus from a distance, he ran up and bowed down before Him; ⁷and shouting with a loud voice, he said, "What business do we have with each other, Jesus, Son of the Most High God? I implore You by God, do not torment me!"
⁸For He had been saying to him, "Come out of the man, you unclean spirit!"
⁹And He was asking him, "What is your name?" And he said to Him, "My name is Legion; for we are many."
¹⁰And he began to implore Him earnestly not to send them out of the country.
¹¹Now there was a large herd of swine feeding nearby on the mountain.
¹²The demons implored Him, saying, "Send us into the swine so that we may enter them."
¹³Jesus gave them permission. And coming out, the unclean spirits entered the swine; and the herd rushed down the steep bank into the sea, about two thousand of them; and they were drowned in the sea.
¹⁴Their herdsmen ran away and reported it in the city and in the country. And the people came to see what it was that had happened.
¹⁵They came to Jesus and observed the man who had been demon-possessed sitting down, clothed and in his right mind, the very man who had had the "legion"; and they became frightened.
¹⁶Those who had seen it described to them how it had happened to the demon-possessed man, and all about the swine.
¹⁷And they began to implore Him to leave their region.
¹⁸As He was getting into the boat, the man who had been demon-possessed was imploring Him that he might accompany Him.
¹⁹And He did not let him, but He said to him, "Go home to your people and report to them what great things the Lord has done for you, and how He had mercy on you."
²⁰And he went away and began to proclaim in Decapolis what great things Jesus had done for him; and everyone was amazed.
Now let us reflect on this
There are no hopeless situations for Jesus. He is the Almighty. This is also evident in this very serious case of possession. After a defeat during the night (Mark 4:35,37,39) the devil now also suffers a defeat during the day.
What a poor man we meet here! It is hard to believe: someone who has sunk so low. The man is full of demons (Mark 5:10). Their destructive effect is very visible (Mark 5:2-5). Can it be worse?
Many find it difficult to deal with this history from their modern view of life. But don't we encounter similar situations even today? People who have become entangled in all kinds of occultism? So what do we do as Christians? Jesus does not wait passively, but takes action (Mark 5:6-9).
This makes it clear that we too must take action when it comes down to it (Compare Acts 16:16-18). But who are we to do that?
In the name of Jesus, a lot of mischief has been done throughout history. Are we better?
Yet God calls us to sanctify His name even in such a situation (Matthew 6:9). We should not do this triumphantly, but out of obedience.
Matthew, who also describes this story, records that the demons cry out, "Did you come here to torment us before the time?" (Matthew 8:29). There will come a time when Jesus will deliver this earth completely and forever from these corrupters of human life. But even now, in this time when evil is still raging on the earth, deliverance and protection can be found with Him (Cf. 1 John 3:8; 10:10). This man also experiences that (Mark 5:15).
The most incomprehensible thing about these verses is that the people of that land do not like Jesus' presence (Mark 5:17).
Their materialism – fear of further business damage (Mark 5:11-14 – Unclean spirits with unclean pigs !, Mark 5:16) – makes them choose against the Savior.
That Jesus does not leave them to blindness is evident from the fact that the man who is delivered and healed must remain there to be a witness and a living proof of the mercy and saving power of God (Mark 5:18-20). Let us also bear witness to God's redeeming love while we still can!
× 0 ×
Twitter: @SchoemakerHarry
Internet: http://harryschoemaker.nl
Website: https://devotionals.harryschoemaker.nl
Facebook Page: https://www.facebook.com/worldwide.ekklesia/
Facebook Group: https://www.facebook.com/groups/302675914424623/