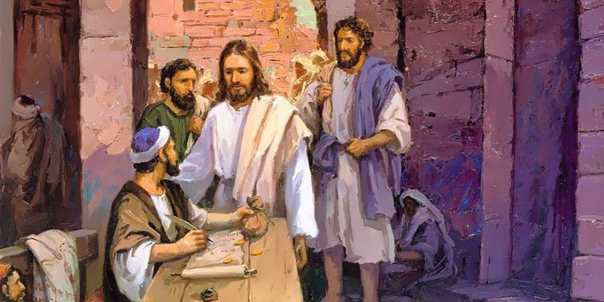 Mark 2:14-17
¹⁴As He passed by, He saw Levi the son of Alphaeus (‭‭The meaning of the name Alphaeus is "changing"‭) sitting in the tax booth, and He said to him, "Follow Me!" And he got up and followed Him.
¹⁵And it happened that He was reclining at the table in his house, and many tax collectors and sinners were dining with Jesus and His disciples; for there were many of them, and they were following Him.
¹⁶When the scribes of the Pharisees saw that He was eating with the sinners and tax collectors, they said to His disciples, "Why is He eating and drinking with tax collectors and sinners?"
¹⁷And hearing this, Jesus said to them, "It is not those who are healthy who need a physician, but those who are sick; I did not come to call the righteous, but sinners."
The people of Israel go to Jesus.
They knew where to reach Him (Mark 2:13).
But the Lord also goes to the people.
He knows us personally and calls us by name. This is how Jesus comes to Levi (In Matthew 9:9 his name is Matthew (Meaning "Gift of Yahweh"). Compare Matthew 10:3).
And He says to him: 'Follow me' (Mark 2:14).
Levi (‭‭Levi means "joined"‭) is a Jewish name. His parents named him after the tribe that entered the service of God in his sanctuary. They may have hoped that their son would dedicate his life to God. But Levi became a tax collector.
He let himself be led by the big money. Tax collectors leased part of the taxes for the Romans. But they charged much higher taxes than they had to pay. They exploited their people and sided with the Roman ruler.
Levi was a publican and thus a sinner. He had turned his back on his people and the God of his people. It is this very man who is called by Jesus. We can learn from this that we can never have sunk too low to still be saved by Him.
Jesus faces much opposition from the spiritual leaders of Israel.
For example, the Pharisees' scribes do not understand that He is dealing with people like Levi. They say, "God has given us commandments and prohibitions, and whoever keeps them is righteous. Levi is not up to the standard."
But Jesus has a different view of righteousness.
Justice is not achieved by fulfilling a number of commandments. There is no one who can fulfill all of God's commandments on his own. The believer receives the righteousness that he lacks, from God, by grace (Galatians 2:15,16).
Jesus compares himself to a doctor who goes to the sick to heal them (Mark 2:17). Sinners need Him very much. For what they lack, righteousness, He is able and willing to give them.
Jesus has come to call sinners. In His calling is everything you and I need as a sinner to become righteous, namely forgiveness of sins, sanctification of life and resurrection (1 Corinthians 1:30).
Questions for self-reflection:
▪︎ Do you realize that Jesus knows you by name?
▪︎ And do you realize that Jesus calls you personally? (Compare Isaiah 43:1)
Prayer suggestion:
▪︎ Thank the Lord for giving you what you still lack
▪︎ Ask the Lord that you may live confident that His will will eventually be done.
× 0 ×
Twitter: @SchoemakerHarry
Internet: http://harryschoemaker.nl
Website: https://devotionals.harryschoemaker.nl
Facebook: https://www.facebook.com/worldwide.ekklesia/
Facebook Group: https://www.facebook.com/groups/302675914424623/
About Author